Crunchy Soft-Shelled Crab Sandwich
Début de l'été 2014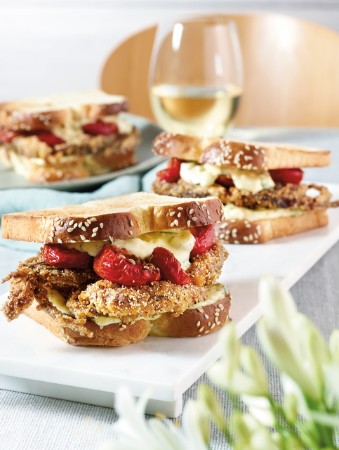 Crunchy Soft-Shelled Crab Sandwich
Début de l'été 2014
BY: Christopher St. Onge
Begin with the tomatoes and work your way through the remainder of the recipe while they cook and all will be finished in time for this spectacular sandwich. A stand mixer makes easy work of the garlic chive grebiche, a tartar-like sauce with the addition of cooked egg, but of course can be accomplished by hand, using a whisk and a little elbow grease. The recipe makes more than enough grebiche and it will keep for up to 5 days, covered and refrigerated. Try it as a potato salad dressing or with cold poached fish, even fish and chips. While seeking out fresh soft-shelled crabs is worth the hunt, many better fish mongers carry frozen ones year round; thaw overnight in refrigerator, if using.
ROASTED TOMATOES
8 ripe Campari tomatoes, cut in half
2 tbsp (30 mL) olive oil
2 tsp (10 mL) coriander seed, lightly crushed
1 tsp (5 mL) fennel seed
Salt and freshly ground black pepper

GARLIC CHIVE GREBICHE
1 hard-boiled egg
1 raw egg yolk
1 tsp (5 mL) mustard powder
¼ tsp (1 mL) sugar
Pinch salt
⅔ cup (150 mL) grape-seed or vegetable oil
1 tbsp (15 mL) lemon juice
1 tbsp (15 mL) pickled caper brine
1 tbsp (15 mL) water
3 tbsp (45 mL) chopped capers
¼ cup (60 mL) finely chopped garlic chives
1 tbsp (15 mL) finely chopped tarragon
Freshly ground pepper to taste

CRAB
¼ cup (60 mL) cornstarch
¼ cup (60 mL) flour
Salt and freshly ground pepper
1 egg, lightly beaten
¼ cup (60 mL) milk
4 soft-shelled crabs, each about 4 oz (125 g), trimmed (see TIP)
Vegetable or canola oil for frying
8 slices brioche, or other soft sandwich bread
1 For the roasted tomatoes, preheat oven to 300°F (150°C).
2 Toss tomatoes with oil, coriander and fennel seeds; season with salt and pepper. Arrange, cut-side up, on a parchment-lined baking sheet. Cook 2 hours or until very soft and undersides are caramelized.

3 Meanwhile, prepare the garlic chive grebiche: separate hard-cooked yolk from white. In the bowl of a stand mixer, mash cooked
yolk together with raw yolk, mustard powder, sugar and salt. Chop egg white and set aside.

4 Return bowl to stand mixer fitted with whisk attachment. On high speed, very slowly drizzle oil down side of bowl until mixture
begins to resemble whipped softened butter. Continue until all oil is incorporated, pausing to scrape down sides of bowl if necessary. (If mixture begins to resemble scrambled eggs, cease adding oil and continue to whisk until mixture is again smooth.) Whisk in lemon juice, caper brine and water. Fold egg whites, capers, garlic chives and tarragon into sauce; season with pepper.

5 To cook crab and assemble the sandwiches, combine cornstarch and flour in a small bowl; season generously with salt and pepper. In a separate small bowl, combine egg and milk. Dunk trimmed crabs, 1 at a time, in egg mixture, and then flour mixture, turning to coat evenly.

6 Bring a 1-inch (2.5-cm) depth of oil in a large sauté pan to 375°F (190°C).

7 Fry crabs in batches of 2 for 1 minute per side, or until golden and crunchy. Remove with a slotted spoon to a paper-towel-lined baking sheet.

8 Toast brioche and spread 4 slices with garlic chive grebiche. Top each with a fried crab, 4 roasted tomato halves, and an additional
generous tbsp (15 mL-plus) of grebiche. Top each with a remaining slice of brioche.

TIP Despite the notion that all of a soft-shelled crab can be eaten, there are a few things in need of trimming before proceeding to cook. Working with 1 at a time, flip the crab over and snip off the flexible apron covering its underside opposite the claw end. Turn back over and lift top of shell on left side. Snip off fibrous gills and repeat on other side. Finally, trim off eyes and mouth using a V-shaped cut beginning on either side of each eye.
SHARE