Crunchy Deli Salad
Autumn 2015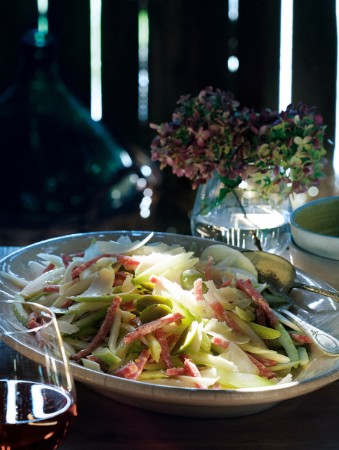 Crunchy Deli Salad
Autumn 2015
BY: Christopher St. Onge
Salami, olives and cheese are paired with crisper-drawer stalwart celery and licoricey fennel in this refreshing salad.
7 oz (210 g) Genoa salami, cut into
⅛ inch thick (3 mm) slices
20 green Cerignola olives, pitted and sliced
8 celery stalks, cut in half lengthwise and thinly sliced on the bias
1 large head fennel, trimmed, thinly sliced
1 tbsp (15 mL) finely grated lemon zest
⅓ cup (80 mL) extra virgin olive oil
2 tbsp (30 mL) lemon juice
2 anchovy fillets, finely chopped
3 oz (90 g) shaved Parmesan, about ½ cup (125 mL)
Salt
1 Working with a few slices at a time, stack salami slices and slice in half through the equator; cut into matchsticks. Repeat with remaining salami and place in a large shallow salad bowl. Add olives, celery and fennel.

2 In a separate small bowl, whisk together lemon zest, olive oil, lemon juice and anchovies; pour over salad, sprinkle with cheese and toss to combine. Check seasoning and add salt to taste if necessary.
SHARE