Crispy Vegetable Wontons
Holiday 2006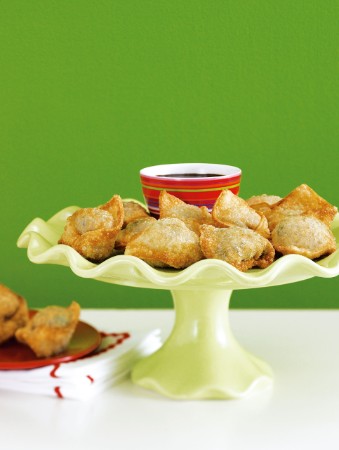 Crispy Vegetable Wontons
Holiday 2006
BY: Emma Waverman and Eshun Mott
There is something very satisfying in creating your own delicious wontons-kind of like wrapping a beautiful gift. But if you don't have time, purchased wontons are a good substitute. Wonton wrappers are usually found alongside fresh Asian noodles in your grocery store. Shiitake mushrooms contribute a lot of flavour to the vegetable mixture, but crimini mushrooms would be fine. Make a double recipe and freeze a batch of wontons for a day when you all need an instant treat.
1 tbsp (15 mL) vegetable oil
½ cup (125 mL) chopped onion
1 tbsp (15 mL) chopped garlic
2 tbsp (25 mL) chopped ginger
¼ tsp (1 mL) chili flakes
1 cup (250 mL) chopped bok choy stems
8 oz (250 g) shiitake mushrooms, stems removed, chopped
(3 cups/750 mL)
2 cups (500 mL) chopped bok choy leaves
¼ cup (50 mL) chopped coriander
Salt
1 package wonton wrappers
Vegetable oil for frying
1. Heat vegetable oil in a skillet over medium heat. Add onion, and sauté for 2 minutes or until softened. Add garlic, ginger and chili flakes, and sauté for 1 minute or until fragrant. Add bok choy stems and sauté for 1 minute or until softened. Add mushrooms and sauté for 1 minute, or until juicy. Add bok choy leaves and stir for 1 minute or until wilted. Remove from heat, stir in coriander and season with salt to taste. Cool to room temperature.

2. Lay out wonton wrappers, a few at a time, on the counter. Spoon about 1 tbsp (15 mL) of filling in the middle of each, moisten edges with water and fold in half to form a triangle, then bring the 2 farthest points together in the middle, and pinch to seal. Continue working until you have used up all the filling. Place wontons on a tray, cover in plastic wrap and reserve in refrigerator until ready to cook.

3. Heat 2 inches (5 cm) of vegetable oil in a wok or high-sided skillet over medium-high heat and, working in batches, fry wontons for 2 to 3 minutes, or until golden and crisp. Drain on paper towels and serve with dipping sauce(recipe follows).

Dipping sauce
½ cup (125 mL) hoisin sauce
½ cup (125 mL) soy sauce
1 tbsp (15 mL) sesame oil
1 tbsp (15 mL) grated ginger
1.  Stir hoisin sauce, soy sauce, sesame oil and ginger together in a small bowl.
SHARE