Crispy Sausage-Stuffed Olives
Début de l'été 2018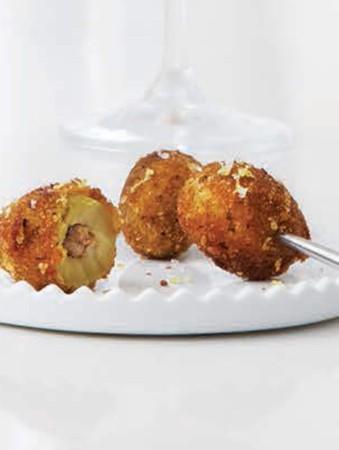 Crispy Sausage-Stuffed Olives
Début de l'été 2018
BY: Amy Rosen
Briny, salty, spicy and slightly meaty, these fried olives are perfectly complemented by a dry vermouth.
¼ lb (125 g) fresh spicy Italian sausage, about 1 link
1 cup (250 mL) mammoth pitted green olives (or with pimentos if pitted aren't available)
½ cup (125 mL) all-purpose flour
2 large eggs
½ cup (125 mL) Italian bread crumbs
2 tbsp (30 mL) grated Parmesan cheese
1 cup (250 mL) vegetable oil for shallow frying
Pinch of sea salt
1 lemon, zested, for garnish
1. Remove the sausage meat from the casing and place it in a small bowl. Drain the olives and rinse them under cold water. Remove the pimentos where necessary, with a toothpick, and then using your pinky finger, make the hole slightly larger. The olive may split a bit but that's okay, it'll come back together after coating. Stuff each of the olives with about a ¼ tsp (1 mL) of the sausage.

2. Pour the flour in a shallow bowl. Break the eggs into a separate shallow bowl and beat well.

3. Mix the bread crumbs and Parmesan together and pour into another shallow bowl.

4. Roll the olives in the flour to coat, then shake off any excess. Next, dip them in the egg, letting any excess drip off, before finally coating the olives well with the bread-crumb mixture, really pressing them in there.

5. Heat the oil to 375°F (190°C).

6. Fry the olives until golden brown, moving them around in the pan with a slotted spoon so that they cook evenly and the sausage in the middle is cooked through, about 3 to 4 minutes. Drain on paper towels and sprinkle with salt and lemon zest.
SHARE