Crispy Italian Eggplant Salad
Autumn 2019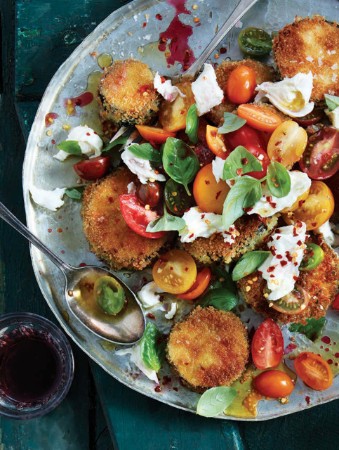 Crispy Italian Eggplant Salad
Autumn 2019
BY: Amy Rosen
Crispy slices of panko-fried eggplant, rich mounds of burrata cheese and juicy pops of tomatoes make for a hot and cold, crisp and creamy new-school take on eggplant parm.
1 medium Italian eggplant
1 tsp (5 mL) kosher salt
½ cup (125 mL) flour
½ tsp (2 mL) sea salt
¼ tsp (1 mL) black pepper 2 eggs, beaten
1 cup (250 mL) panko bread crumbs
½ cup (125 mL) vegetable oil, for frying
3 tbsp (45 mL) red wine vinegar
3 tbsp (45 mL) extra virgin olive oil
Pinch of sugar
2 pkgs (each 183 g) orange and red grape or cherry tomatoes
½ cup (125 mL) basil leaves, roughly torn
1 pkg (250 mL) burrata Big pinch of flaky sea salt
¼ tsp (1 mL) red pepper flakes (optional)
1 Slice eggplant into ½-inch (1-cm) slices (there should be 10 to 12 slices) and place in a colander in the sink. Sprinkle with kosher salt, toss, then let sit to drain for 30 minutes. Wipe salt off and dab dry with paper towel.
2 Place flour on a large plate and season with salt and pepper.
3 Place beaten eggs on a second plate, and panko crumbs on a third plate. This is your breading station.
4 Dip each round of eggplant in flour, shaking off excess, then dip in egg, letting excess drain, then press into panko. Place each breaded piece on a plate and set aside until ready to fry.
5 In a large skillet over medium heat, heat vegetable oil. Fry eggplant slices in a couple of batches so the pan isn't overcrowded, cooking them 2 to 3 minutes on each side, or until golden brown and crispy on the outside and soft in the middle. Set to drain on paper towel.
SHARE