Crispy Halibut with Zucchini Sauté & Fried Capers
Early Summer 2014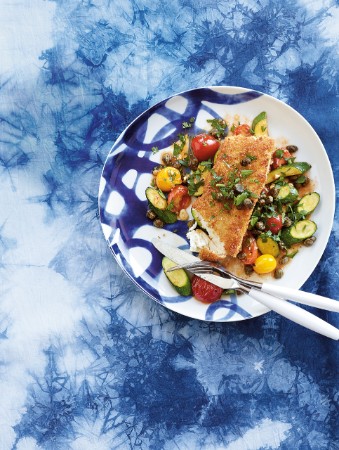 Crispy Halibut with Zucchini Sauté & Fried Capers
Early Summer 2014
BY: Eshun Mott
Dredging halibut in panko gives it a crispy coating and provides the perfect contrasting texture to a quick sauté of zucchini and tomatoes. Fried capers add a surprising and delicious element.
½ cup (125 mL) all-purpose flour
2 tsp (10 mL) chili powder
½ tsp (2 mL) salt
1 egg
¼ cup (60 mL) milk
1 tbsp (15 mL) Dijon mustard
1 cup (250 mL) panko
4 pieces, each 6 oz (175 g) skinless halibut fillet
3 tbsp (45 mL) canola oil
2 tbsp (30 mL) capers, drained, rinsed and patted dry
1 tbsp (15 mL) olive oil
2 small zucchini, cut on the bias into ovals or halved lengthwise and cut into half-moons
1 cup (250 mL) red and yellow cherry or grape tomatoes, halved
1 tsp (5 mL) chopped garlic
Salt and freshly ground black pepper
2 tbsp (30 mL) chopped Italian parsley
1 Preheat oven to 400°F (200°C).

2 Make a dredging station for the fish: combine flour, chili powder and salt in a shallow bowl. Beat egg with milk and Dijon in another bowl, and place panko in the third bowl.

3 Dredge fish first in flour, then in egg mixture and then in panko to coat.

4 Heat 2 tbsp (30 mL) canola oil in a large frying pan on medium-high heat. Add fish and fry, turning, for 2 to 3 minutes or until crumbs are golden. Transfer fish to a baking sheet and bake for 7 minutes or until fish is cooked through.

5 Wipe out pan, add remaining 1 tbsp (15 mL) canola oil and heat on high heat. Add capers and fry for 2 to 3 min or until crispy. Transfer to a paper-towel-lined plate to drain.

6 Add olive oil to pan over medium heat. Add zucchini and fry for 1 minute or until just beginning to soften. Add tomatoes and garlic; fry 1 minute longer or until they have begun to release juice. Season with salt and pepper and sprinkle with parsley and fried capers.

7 Serve fish over zucchini mixture, spooning some sauce over fish.
SHARE