Crispy Baked Potato Chips
Hiver 2012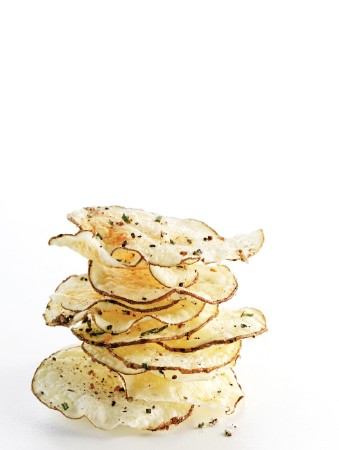 Crispy Baked Potato Chips
Hiver 2012
BY: Heather Trim
Preheat oven to 400°F (200°C). Place 1 or 2 large baking sheets in the oven to get hot.Meanwhile slice potatoes ¼ inch (5 mm) thick (any thinner, they're tricky to flip).


Brush hot baking sheets with olive oil. Lay potatoes in an even layer, leaving about ½ inch (1 cm) between slices. Lightly brush slices with oil, then sprinkle with salt. Bake potatoes until they begin to turn golden, about 15 minutes.


Flip—they may stick a bit, if so wait a minute or 2 then flip. Rotate baking sheets and continue to bake until a deep golden brown; this could be 5 to 15 more minutes with chips being ready at different times. Enjoy right away.
SHARE