Crisped Parsnips
Holiday 2003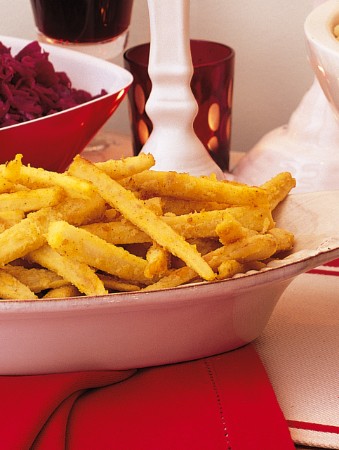 Crisped Parsnips
Holiday 2003
BY: Lucy Waverman
One of our family favorites, these go well with any kind of poultry dish. Reheat on a cookie sheet for 10 minutes in 350°F (180°C) oven.
1 pound (500 g) parsnips, peeled
1/2 cup (125 ml) milk
1/2 cup (125 mL) flour for dredging
Salt and freshly ground pepper
1 tsp (5 mL) curry powder
1/4 cup (50 mL) olive oil
1. Peel parsnips and cut into strips approximately 1/2-inch (1-cm) thick and 4 inches (10-cm) long.
2. Steam or boil for 5 to 8 minutes or until crisp tender. Cool.
3. Toss in milk to coat, and drain.
4. Season flour with salt, pepper and curry powder and roll parsnips in it, tapping off any excess.
5. Heat oil in medium skillet over medium-high heat. Working in batches, add parsnips and sauté, turning frequently, about 5 minutes or until brown and crispy. Clean out pan and add more oil if too much flour falls off parsnips.
SHARE