Crisp-Skinned Salmon
Début de l'été 2013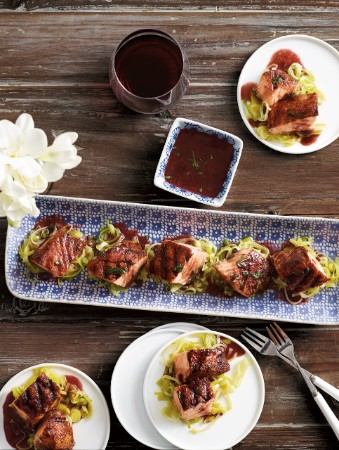 Crisp-Skinned Salmon
Début de l'été 2013
BY: Lucy Waverman
The sweetness of the leeks, the red wine sauce and the sweet spices on the rich, fatty salmon make this an excellent match for Pinot Noir's acidity. The skin crisps best if it is very dry. Serve this dish either warm or at room temperature.
LEEKS
2 tbsp (30 mL) butter
3 leeks, white and light green portion only, thinly sliced
Salt and freshly ground pepper
¼ cup (60 mL) water

RED WINE SAUCE
1 cup (250 mL) Pinot Noir
2 tbsp (30 mL) balsamic vinegar
¼ cup (60 mL) chopped shallots
2 tsp (10 mL) chopped fresh tarragon
⅓ cup (80 mL) cold butter, diced

SALMON
4 salmon fillets, each 6 oz (175 g) skin on
1 tsp (5 mL) ground coriander
1 tsp (5 mL) cinnamon
1 tsp (5 mL) ground black pepper
Salt to taste
1 tbsp (15 mL) olive oil
1 Heat a skillet over medium heat. Add butter and, when it sizzles, add leeks. Sauté for 2 minutes, then season with salt and pepper. Add ¼ cup (60 mL) water and cook until water has evaporated and leeks are very soft, about 3 to 4 minutes. The leeks should not brown. Reserve.

2 Combine wine, vinegar, shallots and tarragon in a pot. Bring to a boil and boil until reduced by half. Reduce heat to low and whisk in butter slowly until butter is absorbed and sauce is thickened. Season with salt and pepper and reserve. Reheat gently when needed.

3 Draw the blunt side of a knife over the salmon skin to release any water. Pat salmon skin with a paper towel.

4 Combine coriander, cinnamon and pepper in a small bowl. Season flesh side of salmon with salt, then rub with spice mixture. Do not season skin side.

5 Heat a nonstick skillet on medium-high heat. Add oil. Place fish skin-side down and sear 4 minutes or until skin is crisp and releases easily from the pan. Reduce heat to medium and flip onto flesh side. Cook 3 to 5 minutes more (depending on thickness) or until salmon is still slightly pink inside.

6 Let salmon sit for 5 minutes then cut each fillet into 6 portions. Plate each on top of some leeks and drizzle with a little sauce.
Serves 12 as a tasting size
SHARE