Crisp Snow Pea Salad
Spring 2005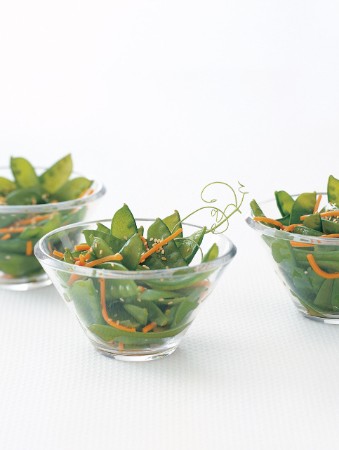 Crisp Snow Pea Salad
Spring 2005
BY: Heather Trim
A simple Japanese dressing turns crunchy snow peas into a refreshing salad. Great with grilled salmon or chicken.
1 lb (500 g) snow peas
¼ cup (50 mL) matchstick-size or thinly sliced carrots
2 tbsp (25 mL) soy sauce
2 tbsp (25 mL) lemon juice
1 tbsp (15 mL) dark sesame oil
2½ tsp (12 mL) granulated sugar
½ tsp (2 mL) wasabi powder
Salt to taste
2 tsp (10 mL) sesame seeds, preferably toasted
1. Snip ends and remove string from snow peas. Fill a large bowl full of ice water. Bring a large saucepan of salted water to a boil. Add snow peas and carrots. Cook just until snow peas turn bright green, about 15 seconds. Drain and plunge into cold water. Drain well and pat dry. Cut snow peas diagonally into ½-inch (1-cm) wide pieces. Place in a bowl along with carrots.

2. To prepare dressing, whisk soy with lemon juice, sesame oil, sugar and wasabi powder, making sure sugar and wasabi powder are dissolved. Stir with snow peas and carrots. Taste and add salt if needed. Sprinkle with sesame seeds.
SHARE