Crisp Skinned Maple Salmon
Spring 2011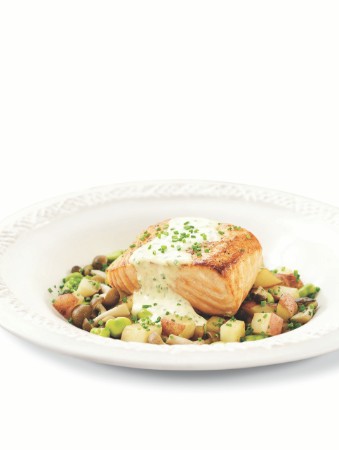 Crisp Skinned Maple Salmon
Spring 2011
BY: Lucy Waverman
This is the time of year when maple trees are being tapped and sap is flowing. Use new maple syrup or finish up last year's batch for this recipe. Use a nonstick pan or if you are a confident cook, use a heavy pan like a cast iron one for the best crisp skin. If it's large enough to hold all your fillets you can put it right into the oven and skip the baking sheet part.
4 pieces salmon, 6 oz (175 g) each, skin on
3 tbsp (45 mL) olive oil
2 tbsp (25 mL) maple syrup
Salt to taste
2 tsp (10 mL) cracked peppercorns
1 tbsp (15 mL) vegetable oil

SABAYON
3 egg yolks
2 tbsp (25 mL) lemon juice
1 tbsp (15 mL) maple syrup
1 tsp (5 mL) grated lemon rind
¼ cup (50 mL) lightly whipped cream
¼ cup (50 mL) chopped chives
½ tsp (2 mL) cracked peppercorns


1 Preheat oven to 450°F (230°C).

2 Lightly oil a heavy baking sheet and place on the middle rack of your oven to heat.

3 Use the back of a heavy chef's knife to scrape away any liquid from the salmon skin.

4 Combine 3 tbsp (45 mL) olive oil and maple syrup and brush lightly over flesh and skin of salmon, reserving a little for a final brush. Season with salt and cracked peppercorns.

5 Heat a large nonstick skillet over high heat until very hot. Add vegetable oil and swirl to coat. Working in batches if necessary, lay salmon in pan, skin-side up, and sear for 2 minutes or until golden. Turn over and brush with remaining maple-oil mixture. Transfer fish to preheated baking sheet, skin-side down, and roast salmon for 5 minutes or until just cooked through.

6 While salmon is roasting, bring water in bottom of double boiler to a boil, then turn down to a simmer. Combine egg yolks, lemon juice, maple syrup and lemon rind in the top of the double boiler and cook, whisking constantly until thickened and pale in colour, about 7 minutes. Fold in whipped cream and chives and season with salt and cracked pepper to taste.

7 Serve salmon skin-side down over Fava Bean, Red Potato and Mushroom Compote (see recipe below). Drizzle with sabayon.


Fava Bean, Red Potato and Mushroom Compote

If you can't find fresh fava beans, you can substitute edamame. Morel mushrooms or chanterelles would be perfect in this dish if they are available. Hon shimeji don't have quite as pronounced a flavour, but they are available at this time as they are grown indoors. If you have a herb garden the chives are probably peeking out by now.

¼ cup (50 mL) butter
1 lb (500 g) small red potatoes, cut into ½-inch (1-cm) dice (about 3 cups/750 mL diced)
1 cup (250 mL) Hon shimeji mushrooms
1 tbsp (15 mL) chopped fresh tarragon
½ cup (125 mL) homemade or low-sodium chicken stock
1 cup (250 mL) shelled fava beans
Salt and freshly ground pepper
3 tbsp (45 mL) chopped chives
1 Heat butter in a large skillet over medium-high heat. Add potatoes and sauté for 4 minutes or until beginning to brown. Add mushrooms and tarragon and sauté another 2 minutes or until mushrooms and potatoes are golden.

2 Add stock, bring to boil, cover pan and reduce heat to low. Cook for 2 minutes or until potatoes are tender and most of stock has disappeared. Stir in fava beans and cook 1 minute longer or until just cooked. Season with salt and pepper to taste. Garnish with chives.
SHARE