Crisp Peking Duck Legs with Rich Asian Sauce
Temps des Fêtes 2014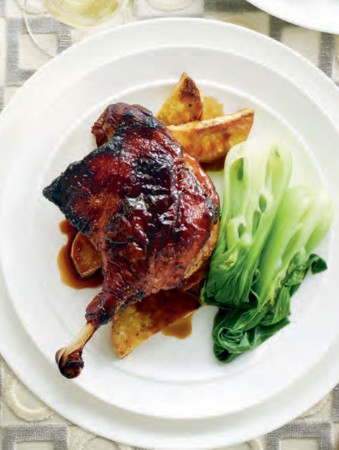 Crisp Peking Duck Legs with Rich Asian Sauce
Temps des Fêtes 2014
BY: Lucy Waverman
All the butchers I called said they could get me duck legs easily but that they themselves mostly used them for making their own confit. Call your butcher when you need them. I have also found them at some supermarkets. If you cannot get duck legs, substitute duck breasts using the same techniques. However duck breasts will only bake for 30 minutes.
MARINADE
2 tbsp (30 mL) honey
¼ cup (60 mL) soy sauce

4 duck legs, each about 12 oz (375 g)

BASTE
¼ cup (60 mL) icewine

SAUCE
1 cup (250 mL) cranberry juice
1 tbsp (15 mL) hoisin sauce
2 tbsp (30 mL) icewine
¼ tsp (1 mL) Sriracha hot sauce
1 tbsp (15 mL) rice vinegar
1 Combine honey and soy and brush all over duck legs. Place them on a baking sheet and refrigerate overnight, uncovered.

2 Preheat oven to 300°F (150°C).

3 Preheat skillet over medium heat. Add duck, skin-side down. Fry for about 5 minutes or until skin is beginning to crisp. Turn over and fry second side 2 minutes. Place on a rack over a roasting pan and brush duck with icewine. Place in oven.

4 Bake for 2 hours or until skin is crisp and legs are tender, basting twice more with icewine. If duck begins to brown too quickly, cover loosely with parchment paper.

5 Let legs rest while making sauce. Pour all the fat out of the roasting pan and place the pan over medium heat. Add cranberry juice, hoisin, icewine, Sriracha and rice vinegar. Bring to boil and reduce until slightly thickened, about 5 minutes.

6 Serve the legs over roasted white sweet potatoes with steamed baby bok choy and drizzle with sauce.
SHARE