Crisp Dill Pickles
Summer 2010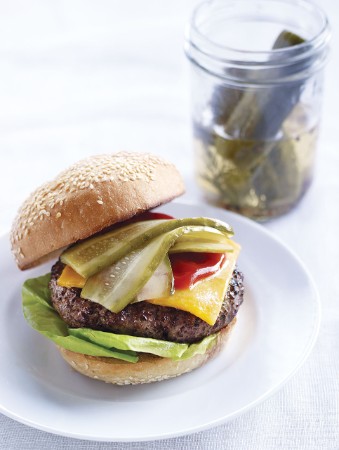 Crisp Dill Pickles
Summer 2010
BY: Eshun Mott
There is a good reason why the best pickles your grocery store sells are in the refrigerated aisle. Processing cucumbers so that they won't need refrigeration cooks them so that they lose their delicious crunch. Sadly this means that if you want to make crunchy cucumber pickles you will not be able to keep them in the cupboard. Refrigerated, they will last a month or two, however, since the market for hothouse mini cucumbers has recently taken off, there is now a year-round supply of cucumbers perfect for pickling, so you won't have to go without fresh crunchy pickles. The recipe here produces the classic dill pickle with a bit of garlic and spice and a freshness that puts them well above the ordinary. Once you've discovered just how easy it is to make these you'll likely become a convert to year-round pickle making. This recipe makes small jars of pickles, but as long as you don't plan to process them you can use large jars, and double the recipe with ease.
Cucumbers & Brine

2 lbs (1 kg) 4 to 5 inch (10 to 12 cm)
cucumbers, scrubbed
½ cup (125 mL) pickling salt
8 cups (2 L) cold water

Pickling Liquid

2¼ cups (550 mL) water
2 cups (500 mL) white vinegar
1 tsp (5 mL) coriander seed
1 tsp (5 mL) black peppercorns
1 tsp (5 mL) yellow mustard seed
½ tsp (2 mL) chili flakes
8 cloves garlic, halved
4 branches fresh dill,
each 4 inch (10 cm)

1. Trim ¼ inch (5 mm) off both ends of each of the cucumbers. Place cucumbers in a large non-reactive bowl and sprinkle with pickling salt. Pour water over cucumbers (there should be enough to fully cover them). Place a plate on top of cucumbers and weigh it down slightly so that cucumbers stay submerged in brine. Allow to stand for 12 to 24 hours at room temperature.

2. Drain cucumbers and rinse in 3 changes of cold water to remove brine. Set aside.

3. Combine water and vinegar. Reserve.

4. Pack cucumbers into four 2-cup (500-mL)sterilized jars (you should be able to squeeze 5 to 6 into each). Combine coriander seed, black peppercorns, mustard seed and chili flakes in a small bowl and add 1 scant teaspoon (5 mL) of mixture to each jar. Add 2 cloves of garlic and a dill sprig to each jar and pour in water and vinegar mixture to cover. Top with lids and refrigerate. Refrigerate for at least 10 days before serving. Pickles must be kept refrigerated, and are best eaten within a month.

Tips

1. Pickling or canning salt is a coarse salt which, unlike table salt, has no additives. Table salt is not recommended as a substitution as it may result in a cloudy brine and in darker, less appetizing looking pickles.

2. Different vinegars have different acidity levels, which can affect both the flavour and the quality of the finished product. If you plan to process and preserve your pickles so that you can keep them in the cupboard it is very important that you use the vinegar the recipe calls for so that the proper acidity level is reached for safe preserving.

3. As with all other types of preserves, use only the freshest produce for your pickles.
SHARE