Creole Seafood Gumbo
Holiday 2012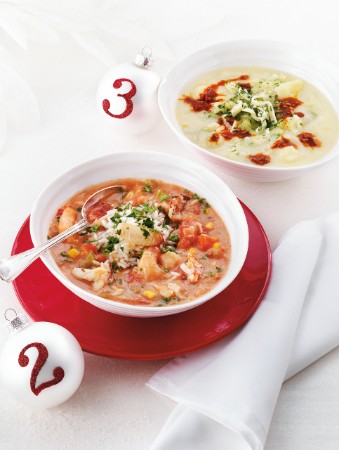 Creole Seafood Gumbo
Holiday 2012
BY: Marilyn Bentz-Crowley
So what makes a soup a gumbo? Apparently it is the quartet of onion, peppers, celery and tomatoes… But whatever—this soup is almost a stew. Do not buy refrigerated less-pricy, semi-preserved crab from the U.S. as it contains the preservative sodium acid pyrophosphate that gives delicate crab a bitter taste, even when rinsed. Emily Richards's Chipotle Cornbread Bites at lcbo.com are a nice accompaniment.
3 slices naturally smoked bacon
½ cup (125 mL) all-purpose flour
1 green or sweet red pepper, diced
1 medium onion, diced
1 large stalk celery, diced
1 large garlic clove, minced
1 can (796 mL) diced tomatoes
1 box (900 mL) lower-salt chicken broth, about 3⅔ cups (875 mL)
2 tsp (10 mL) chopped fresh thyme, or 1 tsp (5 mL) dried
1 bay leaf
¼ tsp (1 mL) cayenne
1 pkg (200 g) frozen snow crab
8 oz (250 g) raw, 41 to 50 count, peeled and deveined shrimp, defrosted
1 cup (250 mL) corn kernels
½ cup (125 mL) chopped fresh parsley or 2 green onions, sliced
3 cups (750 mL) hot cooked long-grain rice
1 Cut bacon crosswise into ¼-inch (5-mm) pieces. Place in a soup pot; cook over medium heat for 8 to 10 minutes until browned and crisp. Remove from heat. Skim off bacon bits, leaving fat behind. Reserve bacon bits.

2 Return pan to heat; sprinkle in flour. Cook, stirring almost constantly for 5 minutes or until flour starts to turn golden. Then add pepper, onion, celery and garlic; sauté 5 minutes or until vegetables begin to soften.

3 Meanwhile, place tomatoes in a sieve over a bowl; let drain. Mix tomato liquid with broth. When vegetables are cooked, add half of liquid mixture; stir very rapidly until well mixed. Then add remaining liquid; add thyme, bay leaf and cayenne.

4 Bring to a boil, stirring frequently. Reduce heat, cover and simmer 15 minutes, stirring occasionally. (If making ahead, soup can be cooled, covered and refrigerated for up to a day. Reheat when needed.)

5 Meanwhile, pick out some of the larger bits of crab; reserve for garnish. Remove tails from defrosted shrimp; discard.

6 When simmering time is up, stir in drained tomatoes, shrimp, crab, corn and bacon bits. Increase heat to medium; cook 10 to 15 minutes, stirring frequently, or until shrimp are pink and gumbo is very hot. Stir in most of chopped parsley or green onions. If a thinner gumbo is desired, stir in splashes of boiling water.

7 Ladle into wide soup bowls. Add a scoop of rice; garnish with a bit of crab. Scatter with remaining parsley and serve with corn muffins or bread.
Serves 4 to 6 as an entrée
SHARE