Crema di Mascarpone
Autumn 2019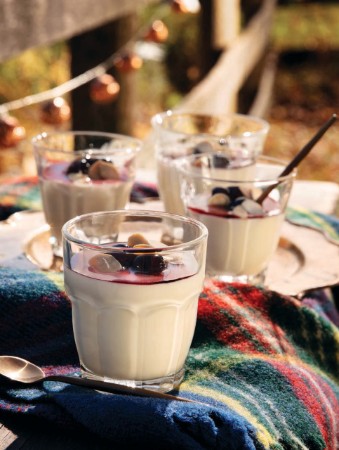 Crema di Mascarpone
Autumn 2019
BY: Christopher St. Onge
A perfect marriage of two of my favourite products, one Italian, the other Ontarian, Crema di Mascarpone is a bit like panna cotta, only far more luxurious. It comes together in seconds but does need to set up overnight in the fridge. Amarena cherries are available from Italian specialty shops or online—look for Fabri or Toschi brands. The cherries are very sweet but pleasingly tart, making them a perfect foil for the rich mascarpone.
2 cups (500 mL) mascarpone, preferably Bella Casara brand
2 egg yolks
3 tbsp (45 mL) sugar
2 tbsp (30 mL) amaretto or Grand Marnier
2 tbsp (30 mL) milk, half & half or 18% cream
18 amarena cherries in syrup
2 tbsp (30 mL) sliced almonds, lightly toasted
1 Combine mascarpone, egg yolks, sugar, amaretto and milk (or cream) in a blender. Process until smooth and sugar is dissolved, about 1 minute. Divide between 6 glasses, each 4 to 5 oz (115 to 140 mL). Cover glasses with plastic wrap and refrigerate overnight for at least 18 hours and up to 2 days in advance.
2 To serve, remove the wrap and top each with 3 cherries, a little of the cherry syrup and an equal amount of the almonds.
SHARE