Creepy Crawly Canapés
Automne 2008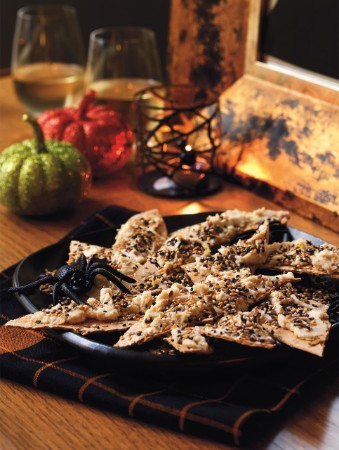 Creepy Crawly Canapés
Automne 2008
BY: Jennifer MacKenzie
Little bugs crawling across broken shards of bark will definitely have your guests wondering in which haunted wood you found these canapés. The fresh burst of lemon and slight tang from the feta cheese will make them forget about the mysterious "bugs" and this tasty spread will be gobbled up. The spread can be made up to 2 days ahead and stored in the refrigerator but the canapés are best assembled just before serving. One type of seed can be used for the bugs, but a mixture really does create a creepier effect.
1 cup (250 mL) canned white kidney beans, rinsed and drained
2 oz (60 g) feta cheese
2 tbsp (25 mL) olive oil
½ tsp (2 mL) grated lemon rind
1 tbsp (15 mL) lemon juice
Salt and freshly ground pepper
24 broken shards of crisp flatbread or crackers, about 2 to 3 inches (5 to 8 cm) each
2 tsp (10 mL) mixed black sesame seeds, golden and brown flax seeds and/or white sesame seeds
1. Combine kidney beans and feta cheese in a food processor and pulse until beans are chopped. Scrape down sides of bowl and add olive oil, lemon rind and juice. Purée until fairly smooth. Scrape into a bowl and season to taste with salt and pepper.

2. Spread bean mixture onto shards of flatbread and arrange on a serving platter. Sprinkle seeds over top to resemble bugs, letting some fall on serving platter.
SHARE