Creamy Garlic Gazpacho
Début de l'été 2014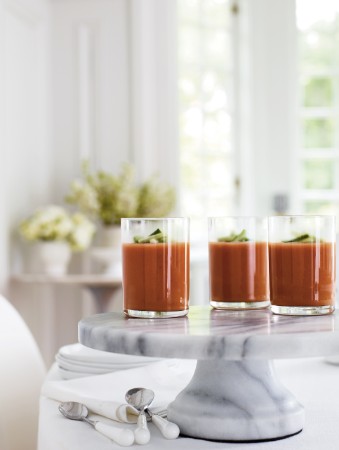 Creamy Garlic Gazpacho
Début de l'été 2014
BY: Monda Rosenberg
There's a good reason gazpacho is at the top of the summer soup hit parade. This refreshing starter takes mere minutes to whirl up, especially if you let a blender do most of the work. And every sip captures the essence of the healthy Mediterranean diet, including lycopene-laden ripe tomatoes and vitamin C‑rich peppers plus cholesterol-fighting olive oil. The secret to this soup's creamy texture is to pour in the olive oil with a slow, steady hand.
4 large ripe tomatoes
6 large garlic cloves, chopped
3 slices day-old white bread, crusts removed
1 small cucumber
1 green pepper, seeded
½ jalapeño or serrano pepper, seeded (optional)
½ cup (125 mL) coarsely chopped Spanish onion
2 tbsp (30 mL) sherry vinegar, or balsamic or solera sweet vinegar
¾ tsp (4 mL) salt
2 to 3 tsp (10 to 15 mL) sugar
½ cup (125 mL) extra virgin olive oil, divided
Slivered cucumber, or sour cream and fresh coriander to garnish (optional)
1 Preferably a day before serving, core tomatoes and coarsely chop. Place along with seeds and juice in a large bowl. Add garlic. Tear bread into small cubes and stir in. Peel cucumber and slice in half lengthwise. Use a small spoon to scrape out seeds; discard seeds. Coarsely chop cucumber and green pepper, and add to tomato. Finely chop jalapeño and add to mixture along with onion, vinegar and salt. (Add sugar, depending on how sweet tomatoes are.) Mix well to evenly distribute ingredients.

2 Spoon about half the mixture into a blender or food processor. (Blender will give a finer texture.) Pulse or whirl until finely chopped. With blender running, drizzle in ¼ cup (60 mL) oil in a slow, steady stream and continue blending until it's as smooth as you like. Pour into a large pitcher. Repeat with remaining mixture and oil. Taste and add more vinegar or sugar if needed.

3 Cover and refrigerate overnight or up to 2 days. Thin, if necessary, with water. Serve in small glasses garnished with slivered cucumber, or add a swirl of sour cream and fresh coriander leaves.
SHARE