Creamy Cucumber and Arugula Soup
Summer 2007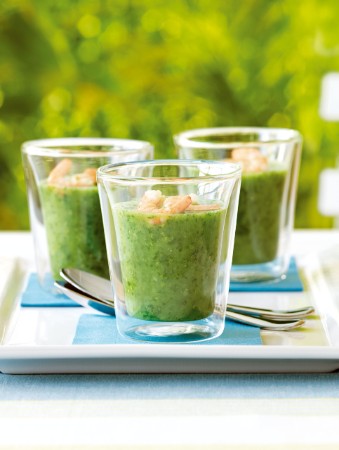 Creamy Cucumber and Arugula Soup
Summer 2007
BY: Lucy Waverman
A simple, cold summery soup. Serve in glass mugs rimmed with mint for a beautiful presentation.
1 English cucumber
2 cups (500 mL) packed arugula, thick stems removed
2 cups (500 mL) chopped escarole or other lettuce
½ cup (125 mL) chopped Spanish or sweet onion
2 tbsp (25 mL) chopped fresh mint
1 tbsp (15 mL) chopped fresh tarragon or basil
1 tbsp (15 mL) lemon juice
2 cups (500 mL) chicken stock or water
1 cup (250 mL) buttermilk
Salt and freshly ground pepper


Garnish
1 cup (250 mL) cooked baby shrimp
Extra-virgin olive oil for drizzling



1. Peel strips from cucumber, leaving some skin intact. Chop up cucumber coarsely and place in a food processor.

2. Add arugula, escarole, onion, mint, tarragon, lemon juice and 1 cup chicken stock. Purée until smooth. Stir in remaining chicken stock and buttermilk. Season with salt and pepper.

3. Chill well. Garnish with baby shrimp and a drizzle of extra virgin olive oil.
SHARE