Creamed Spinach and Shiitake Mushroom Gratin
Autumn 2000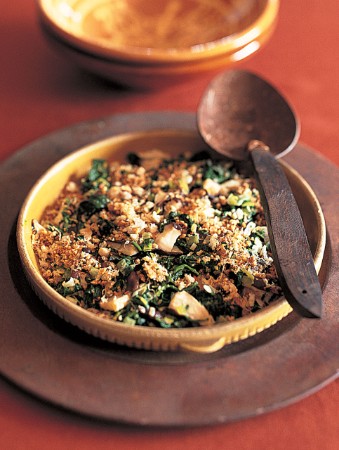 Creamed Spinach and Shiitake Mushroom Gratin
Autumn 2000
BY: Johanna Burkhard
A simple roast of pork or chicken with crispy potato wedges makes a great companion for this delicious vegetable dish.
2 pkgs, 10 oz (300 g) each, fresh spinach, large stems removed
2 tbsp (25 mL) butter
1 leek, white and light green part only, chopped
½ lb (250 g) shiitake or portobello mushrooms, sliced, chopped
1 cup (250 mL) whipping cream
1 tsp (5 mL) grated orange zest
Salt, freshly ground pepper and grated nutmeg

Crumb topping:
½ cup (125 mL) soft baguette breadcrumbs
1/3 cup (75 mL) shredded Gruyère or Parmesan cheese
¼ cup (50 mL) finely chopped walnuts
1. Rinse spinach and shake off excess water. Place in a large stockpot, cover and cook over medium-high heat for about 5 minutes or until wilted. Drain well and let cool. Squeeze dry and finely chop.

2. Heat butter in a large non-stick skillet over medium-high heat. Cook leeks and mushrooms, stirring for 5 minutes or until tender. Stir in spinach, cream and orange zest. Cook until piping hot. Season with salt, pepper and nutmeg. Transfer to a buttered shallow 8-inch (2-L) baking dish. (Can be prepared up to this point. Covered and refrigerated for up to 2 days).

3. Preheat oven to 375°F (190°C).

4. Combine breadcrumbs, Gruyère and walnuts in a bowl. Sprinkle over top. Bake in oven for about 30 minutes or until top is golden and centre is piping hot.
SHARE