Creamed Parsnips with Bombay Butter
Temps des Fêtes 2010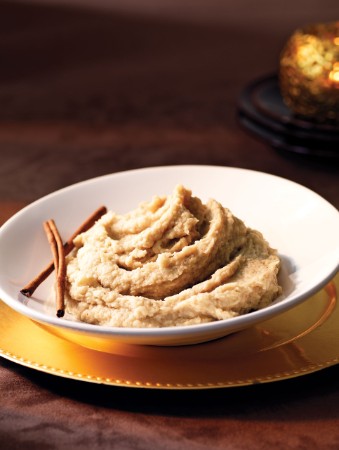 Creamed Parsnips with Bombay Butter
Temps des Fêtes 2010
BY: Lucy Waverman
Try this instead of the usual mashed potatoes. It is fabulous with roast chicken, roast beef or sautéed lamb chops.
11/2 lbs (750 g) parsnips, peeled and cut into chunks
1 tsp (5 mL) garam masala
1/2 tsp (2 mL) cinnamon
1/4 cup (50 mL) butter, softened
1/2 cup (125 mL) whipping cream
Salt and freshly ground pepper
1 Place parsnips in a pot of salted water over medium-high heat, bring to boil and cook for 10 minutes or until very tender. Drain, return parsnips to pan and place over low heat for1 minute or until all water has evaporated.

2 Place parsnips in a food processor with garam masala, cinnamon and butter and purée until smooth. Add whipping cream and process until well combined. Season with salt and pepper to taste.


SHARE