Creamed Mushroom Medley
Holiday 2009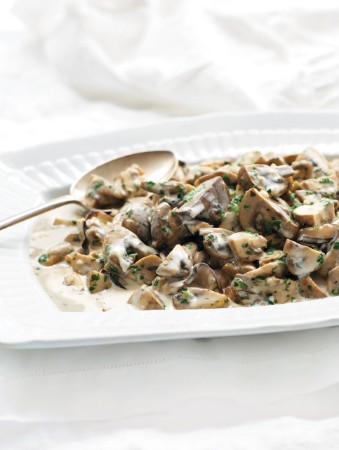 Creamed Mushroom Medley
Holiday 2009
BY: Marilyn Bentz-Crowley
Much like fresh spinach, mushrooms greatly diminish in size with cooking so what seems like a large mound quickly deflates. These delicious mushrooms are outstanding with roast beef, chicken or turkey. For a vegetarian entrée, serve as a filling for hot popovers.
4 oz (125 g) shiitake mushrooms
2 lbs (1 kg) button or cremini mushrooms or preferably a mixture
2 tbsp (25 mL) butter, divided
2 tbsp (25 mL) freshly squeezed lemon juice, divided
1 large shallot or small onion, minced
1 large garlic clove, minced
1 tbsp (15 mL) all-purpose flour
½ tsp (2 mL) salt
Several grindings of black pepper
½ cup (125 mL) plus 2 tbsp (25 mL) whipping cream, divided
¼ cup (50 mL) chopped fresh parsley creamed mushroom medley
1. Remove stems from shiitake mushrooms; discard or save for stock. Thinly slice shiitake caps; quarter button or cremini mushrooms (or cut into sixths if large). Toss together. (Mushrooms can be prepared ahead, covered and refrigerated for up to a day.)

2. Heat 1 tbsp (15 mL) butter in a large frying pan over medium to medium-high heat until very hot and bubbly. Add half of mushrooms and 1 tbsp (15 mL) lemon juice. Sauté 3 minutes, turning frequently, or until lightly browned and almost cooked. Turn into a bowl. Again with more butter and juice, sauté remaining mushrooms in the same manner; turn into bowl.

3. Reduce heat to medium.

4. Drain juices from bowl into pan; add shallot and garlic. Cook 2 minutes or until softened. Meanwhile stir flour, salt and pepper into ½ cup (125 mL) cream; pour into shallot mixture. Bring to a boil, stirring constantly; bubble 1 minute.

5. Return mushrooms to pan. Cook, stirring frequently, for 5 minutes or until hot, bubbling and sauce has thickened. Turn into warmed serving dish. Strew with parsley and drizzle with remaining 2 tbsp (25 mL) cream.
SHARE