Cream-Soda Icebox Cake
Début de l'été 2017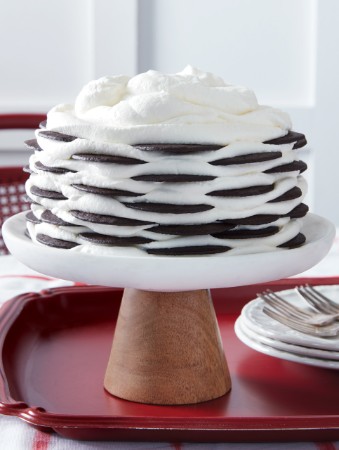 Cream-Soda Icebox Cake
Début de l'été 2017
BY: Victoria Walsh
This rich, tasty throwback cake includes chocolate, a nod to the egg cream—an early incarnation of cream soda. Note: you don't need to wash the bowl in between the eggs and cream but you must beat whites first.
2 fresh pasteurized egg whites
½ tsp (2 mL) freshly squeezed lemon juice or a pinch of cream of tartar
1 cup (250 mL) granulated sugar, divided
2 cups (500 mL) whipping cream
1 tbsp (15 mL) pure vanilla extract or 1 vanilla bean
1 pkg (200 g) chocolate wafers (thin round ones)
1 Using a hand-held or stand mixer, beat egg whites in a bowl until beaten. Add lemon juice. Gradually beat in ½ cup (125 mL) of sugar. Continue beating until stiff peaks form. Scrape into a large bowl.
2 Pour cream into unwashed bowl. If using vanilla bean, scrape seeds from bean and add to bowl, or pour in extract. Beat until soft peaks form. Gradually beat in remaining sugar. Continue beating until stiff peaks form. Fold into beaten egg-white mixture.
3 Line a baking sheet with parchment. Form a circle using 6 wafers with 1 in the centre. Dollop and spread about ⅔ cup (150 mL) whipped filling overtop, spreading out to the edges and smoothing the top as best you can. Repeat layering with remaining wafers and cream. Finish using a bit more cream on top, creating a swirled pattern. Freeze for at least 6 hours.
4 Just before serving, slice into wedges.
SHARE