Cream of Potato Soup with Watercress
Holiday 2013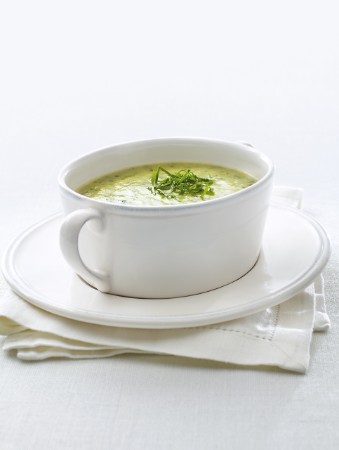 Cream of Potato Soup with Watercress
Holiday 2013
BY: Lucy Waverman
You need 2 to 4 cups (500 mL to 1 L) of leftover potato gratin to make this. See recipe for The Vrai French Gratin of Potatoes. Adjust the stock depending on how much you have.
2 cups (500 mL) sliced leeks
Leftover potato gratin, torn into pieces
Chicken or vegetable stock to cover potatoes by 1 inch (2.5 cm)
1 bunch watercress, stems removed
Salt and freshly ground pepper
1 Add leeks and gratin to pot. Cover with stock by 1 inch (2.5 cm) and bring to boil. Cover and simmer together for 10 minutes or until leeks are softened.

2 Add watercress and simmer for 4 to 5 minutes or until watercress is wilted.

3 Purée with an immersion blender until smooth. Season well with salt and pepper, adding extra stock if the soup is too thick.
Serves 4 to 8 (depending on amount of gratin)
SHARE