Crab & Grilled Prime Rib with Cucumber-Cilantro Chimichurri
Summer 2015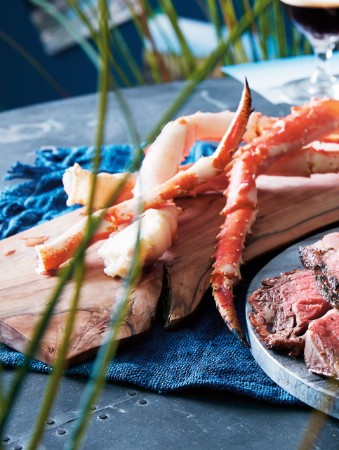 Crab & Grilled Prime Rib with Cucumber-Cilantro Chimichurri
Summer 2015
BY: Victoria Walsh
This surf 'n' turf, steak-and-crab dinner is made summery with the delicious addition of cucumber-spiked chimichurri sauce and fresh watermelon slices.
GRILLED PRIME RIB
3½ to 4½ lbs (1.75 to 2.25 kg) prime-rib or sirloin-tip beef roast
1 tbsp (15 mL) olive oil
1 tbsp (15 mL) peppercorns, coarsely cracked
2 tsp (10 mL) kosher salt

CUCUMBER-CILANTRO CHIMICHURRI
3 cups (750 mL) fresh cilantro, about 1 bunch
½ cucumber, seeded
1 large or 2 small shallots, coarsely chopped
2 tbsp (30 mL) red wine vinegar
¼ cup (60 mL) extra virgin olive oil

2 small watermelons or ½ large watermelon, sliced into triangles
1 lb (500 g) cooked king crab legs, defrosted
1 Pat beef dry with paper towels. Rub roast with oil, cracked pepper and salt. Bring to room temperature. This will take 1 hour if fresh from the store, 2 hours if from fridge.

2 Meanwhile, whirl chimichurri ingredients together in a food processor until puréed. Pour into 1 or 2 serving bowls.

3 Preheat barbecue to medium-high. Reduce heat on one side to low.

4 Using medium-high side of grill, brown meat all over, about 5 to 10 minutes per side. Place roast on low-temperature side of grill.

5 Reduce temperature of medium-high side of grill to medium, adjusting heat so that barbecue maintains 350°F (180°C).

6 Barbecue beef until an instant-read thermometer inserted into thickest part of meat reads 128°F (54°C) for medium-rare. This will take anywhere from 40 to 70 more minutes depending on the thickness of the roast and if it has bones. Check roast occasionally, keeping in mind that the internal temperature may rise while it's resting.

7 When done, remove roast to a carving board. Loosely cover with foil. Let rest for 15 to 25 minutes.

8 To serve, carve roast. Serve slices of beef on a platter alongside watermelon wedges and crab legs. Serve chimichurri alongside for dipping and drizzling.
SHARE