Cozze Fritte (Fried Mussels) with Saffron Mayonnaise
Winter 2017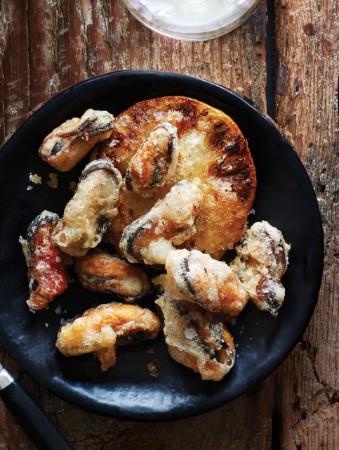 Cozze Fritte (Fried Mussels) with Saffron Mayonnaise
Winter 2017
BY: Chris Johns
Mussels take on a decidedly luxurious quality when they're dipped in a light batter and deep-fried. A golden, creamy mayonnaise infused with the floral elegance of saffron raises the bar even higher.
MAYONNAISE
Small pinch saffron, about 10 threads
1 tbsp (15 mL) hot water
½ cup (125 mL) mayonnaise
1 tsp (5 mL) Dijon mustard
1 small garlic clove, minced
Juice from ½ lemon
Salt and pepper

MUSSELS
¼ cup (60 mL) water
2 lbs (1 kg) live mussels

BATTER
½ cup (125 mL) all-purpose flour
½ cup (125 mL) cornstarch
1 tsp (5 mL) baking powder
½ tsp (2 mL) kosher salt
1 cup (250 mL) cold soda water
3 cups (750 mL) vegetable oil for frying
½ lemon, thinly sliced into rounds
1. Place saffron threads in a small bowl and pour hot water over. Allow to stand for 5 minutes.
2. Combine saffron and its liquid with remaining mayonnaise ingredients and blend well until combined. Adjust seasoning if desired. The mayonnaise can be made the day before.

3. For mussels, place a large pot over high heat and add the water. When the water starts to boil add the mussels. Cover and steam for about 4 minutes until all of the mussels have opened. Allow the mussels to cool for 10 minutes and then remove the mussels, place in a separate bowl and discard the shells.

4. Make the batter. Stir together flour, cornstarch, baking powder and salt. Pour in soda water, whisking constantly until you have a thin batter.

5. Pour vegetable oil into a large, high-sided frying pan and bring up to 350°F (180°C).

6. Dip each mussel into the batter and then place in the oil. Fry until golden and crispy, about 3 minutes. Dip the lemon slices in the oil and fry until golden, about 3 minutes. Drain on paper towel.

7. Pile the fried mussels on a plate and top with fried lemon slices. Serve with saffron mayonnaise.
SHARE