Couscous with Seven Vegetables
Holiday 2008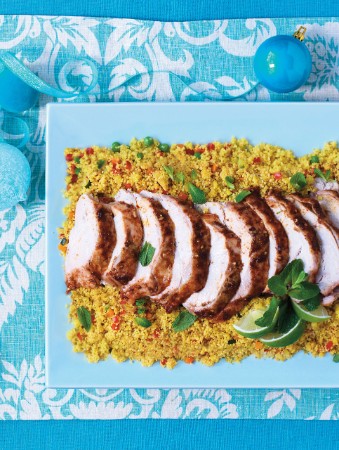 Couscous with Seven Vegetables
Holiday 2008
BY: Lucy Waverman
It is good luck to have seven vegetables in any Moroccan dish.
2½ cups (625 mL) chicken stock
½ tsp (2 mL) ground cumin
¼ tsp (1 mL) paprika
¼ tsp (1 mL) ground black pepper
¼ tsp (1 mL) cinnamon
½ tsp (2 mL) turmeric
½ cup (125 mL) chopped red onion
¼ cup (50 mL) diced carrots
½ cup (125 mL) diced white turnip
½ cup (125 mL) diced red pepper
½ cup (125 mL) diced zucchini
2 cups (500 mL) couscous
½ cup (125 mL) peas, fresh or frozen
Salt to taste
3 tbsp (45 mL) chopped fresh coriander
1. Heat chicken stock in a pot over medium heat. Add cumin, paprika, black pepper, cinnamon and turmeric and simmer together for 2 minutes.

2. Add onion, carrots, turnips, red pepper and zucchini and simmer 5 to 7 minutes or until vegetables are softened. Turn heat to high and bring to boil. Stir in couscous. Cover and remove from heat. Let stand for 5 minutes. Uncover and fluff with a fork. Season with salt and sprinkle with coriander. Serve with the turkey.
SHARE