Cornmeal-Fried Oysters with Chipotle Mayonnaise
Holiday 2002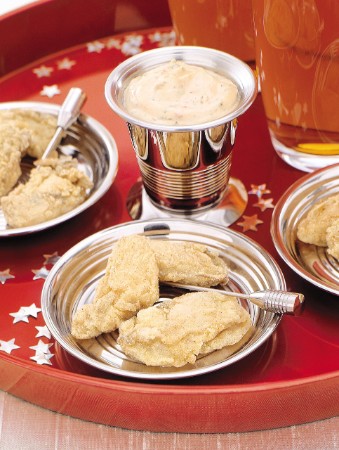 Cornmeal-Fried Oysters with Chipotle Mayonnaise
Holiday 2002
BY: Lucy Waverman
Everyone loves fried oysters, and this typical Cajun dish is perfect. It is excellent for New Year's Eve or any time of the year. Buy already shucked oysters to save time and trouble. If you buy the larger B.C. oysters for this dish, cut them in half.
1/2 cup (125 mL) cornmeal
1/2 cup (125 mL) all-purpose flour
1 tsp (5 mL) paprika
1 tsp (5 mL) dried thyme
Salt and freshly ground pepper
12 shucked oysters
Vegetable oil for frying
1. Combine cornmeal, flour, paprika, thyme, salt and pepper in a dish. Toss oysters in cornmeal mixture.
2. Heat enough oil to film base of skillet on high heat. When oil is very hot, add oysters, but do not crowd pan. Sauté for about 1 to 2 minutes or until coating is browned. Remove immediately to serving dish. Add more oil as needed to fry remainder. Serve with Chipotle Mayonnaise (recipe follows).

Chipotle Mayonnaise
Chipotle in adobo sauce is canned smoked jalapeño peppers preserved in a very spicy tomato sauce.  Both the peppers and the sauce are used in this dish.  It is available in Mexican or South American stores and some supermarkets.  If unavailable, use Asian sambal oelek but you will lose the smokiness.

1/2 cup (125 mL) mayonnaise
1 tsp (5 mL) chopped chipotle peppers
1 tsp (5 mL) adobo sauce
Salt to taste
2 tbsp (25 mL) chopped coriander
1. Combine mayonnaise, chipotle peppers and adobe sauce.  Season with salt and stir in coriander.
SHARE