Corn & Chorizo Fritters
Temps des Fêtes 2008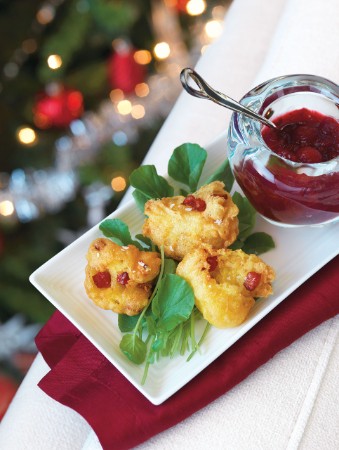 Corn & Chorizo Fritters
Temps des Fêtes 2008
Roger Mooking

Golden and crisp, these easy fritters are fun to make and will put even the most holiday-fatigued into a festive mood. And because some like it hot and some not, choose a mild or spicy chorizo.
½ cup (125 mL) yellow cornmeal
1 cup (250 mL) all-purpose flour
2 tsp (10 mL) baking powder
¼ tsp (1 mL) baking soda
½ tsp (2 mL) kosher salt
1½ tbsp (22 mL) finely chopped shallot
1½ cups (375 mL) 2% milk
⅔ cup (150 mL) peeled, diced chorizo sausage
Vegetable oil for deep frying
1. In a large bowl, combine cornmeal, flour, baking powder, baking soda and salt. Add shallots and milk and, using a whisk, mix into a smooth pancake like batter.

2. Peel the outer casing off the chorizo sausage using a paring knife, then dice—pieces should be about the size of frozen peas. Add diced chorizo to the batter, and set aside to rest for 10 minutes.

3. Add vegetable oil to a deep saucepan making sure not to fill the pot more than halfway. Place on stovetop over medium heat and using a thermometer, bring the oil to 325ºF (160ºC).

4. Using a tablespoon, measure and drop fritter batter into hot oil, only a few at a time, so as not to crowd the pot and cool the oil. Flip fritters over and cook until golden-brown on all sides, about 3 minutes each. Use a slotted spoon or Chinese spider to scoop out fritters and drain on paper towels or on a cooling rack. Serve immediately with cranberry chutney.
SHARE