Coq au Riesling
Début de l'été 2015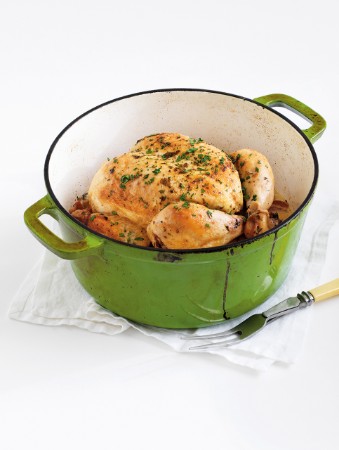 Coq au Riesling
Début de l'été 2015
BY: Lucy Waverman
The original French recipes call for chicken parts but doing a whole chicken and then cutting into serving pieces works even better. The chicken is succulent and full of flavour. I recommend buying a naturally raised or organic chicken, as they have more taste. If the mushrooms are large, then half or quarter them. Trussing the chicken gives it a better shape and cooks it more evenly. A heavy pot is best for this. Try to use one that fits the chicken with enough room for the other ingredients. Serve the same wine with the meal.
1 chicken, 4 lbs (2 kg) trussed
Salt and freshly ground pepper
1 tbsp (15 mL) chopped fresh tarragon
3 sprigs fresh tarragon
1 tbsp (15 mL) vegetable oil
2 tbsp (30 mL) butter
4 oz (125 g) pancetta or smoked bacon, cut in ¾ inch (2 cm) dice
½ cup (125 mL) chopped shallots
8 oz (250 g) small cremini mushrooms
1½ cups (375 mL) Riesling
½ cup (125 mL) whipping cream
2 tbsp (30 mL) chopped parsley
1 Preheat oven to 350°F (180°C).

2 Season chicken with salt, pepper and sprinkle with chopped tarragon. Throw tarragon sprigs into the cavity.

3 Heat oil and butter in a heavy ovenproof pot over medium-high heat. Add chicken and sear until nicely browned, about 3 minutes a side. Remove to a plate. Drain oil leaving 1 tbsp (15 mL).

4 Add pancetta and sauté until it begins to lose its fat, about 2 minutes. Add shallots and mushrooms and continue to cook until shallots are softened, about 2 minutes longer. Pour in Riesling and bring to a boil. Boil for 2 minutes or until slightly reduced.

5 Return chicken to pot, cover and bake for 1 hour or until chicken is nearly cooked. Remove cover and bake for 15 minutes longer to reduce sauce and brown skin.

6 Remove pot from oven and place chicken on a board to rest. Skim off any fat from sauce, then add cream to sauce. Bring to boil and reduce for 6 to 8 minutes or until slightly thickened and rich-tasting, adding salt and pepper as needed.

7 Remove backbone from chicken and cut into 4 serving pieces. Return to sauce to reheat. Sprinkle with parsley just before serving.
SHARE