Confit of Radishes with their Greens
Early Summer 2011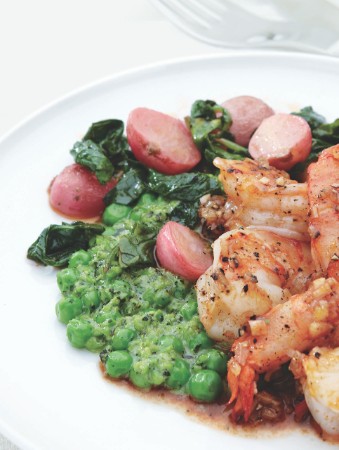 Confit of Radishes with their Greens
Early Summer 2011
BY: Lucy Waverman
A delightful dish to serve with the shrimp. The colour is lovely and so is the slightly spicy taste. Espelette peppers are mildly spicy and give the dish a lift. If not available use chili flakes or omit hot peppers altogether.
1 bunch small radishes with their greens
1 tbsp (15 mL) olive oil
1 tbsp (15 mL) butter
¼ tsp (1 mL) espelette peppers (or pinch chili flakes)
Salt and freshly ground pepper
1. Cut greens from radishes and wash really well, then reserve. Cut radishes in half, or, if large, in quarters.

2. Melt oil and butter in a skillet over medium heat. Add radishes and peppers, season with salt and pepper and sauté for 2 minutes. Cover, turn heat to low and cook another 3 minutes. Add radish tops, cover again and cook for 2 minutes or until radishes are tender and leaves are wilted. Uncover and turn heat to medium and cook 1 minute longer or until cooking liquids just coat radishes. Adjust seasoning if necessary and serve beside shrimp.
SHARE