Confit Chicken Thighs
Hiver 2016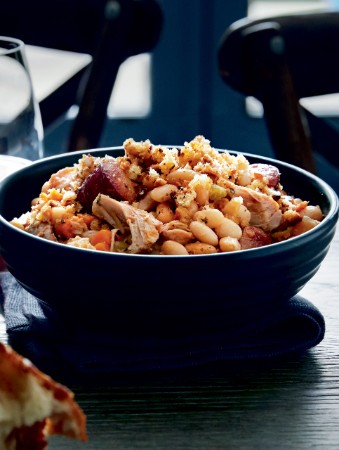 Confit Chicken Thighs
Hiver 2016
BY: Marilyn Bentz-Crowley
Long slow cooking produces very tender and flavourful results. Here, chicken thighs bake covered in fat for hours at a very low temperature.The result is incredibly moist and savoury chicken that can be chunked and tucked into a cassoulet or made into pulled shreds to stir into a risotto or pasta.
8 chicken thighs, skin-on and bone-in only
1 tsp (5 mL) fine sea salt
1 tbsp (15 mL) minced garlic, about 2 to 3 large cloves
1 tbsp (15 mL) finely chopped fresh thyme leaves
½ tsp (2 mL) freshly ground black pepper
2 cups (500 mL) olive oil
1 Place thighs, skin-side down, snugly in a single layer in an 8 x 8-inch (20 x 20-cm) or 7 x 11-inch (18 x 28-cm) glass baking dish. Tuck excess skin to thigh sides, exposing flesh.

2 Mix salt with garlic, thyme and black pepper. Distribute evenly over chicken; rub in slightly. Cover with plastic wrap; refrigerate overnight.

3 Preheat oven to 200°F (100°C).

4 Discard plastic wrap. Leaving chicken in dish, pour oil over thighs so they are submerged. Cover dish tightly with foil.

5 Bake in centre of oven for 10 to 12 hours. Gently using tongs, remove chicken to another dish; cover and chill. Cool cooking liquid slightly; strain. Separate fat and juice; refrigerate juice to use in cassoulet (if making).

6 Refrigerate fat separately; it keeps well for a week or 2 in the refrigerator, or portion into small containers and freeze. Use this savoury oil in other recipes (including Cassoulet) from sautéed meat and potatoes to stir-fries and soups.

7 To use chicken, scrape off skin and visible fat; discard. Gently remove thigh meat from bones, keeping it in large chunks. Confit chicken has a rosy colour, but is fully cooked. Cover and refrigerate. Use within 3 days or freeze.
SHARE