Coconut-Spiked Squash Soup
Temps des Fêtes 2012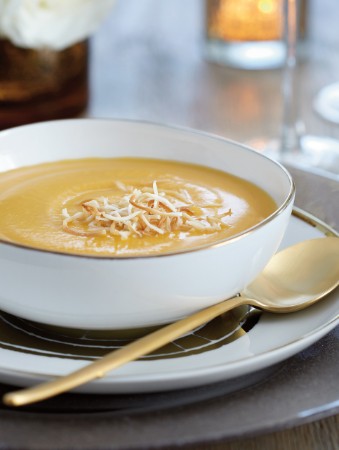 Coconut-Spiked Squash Soup
Temps des Fêtes 2012
BY: Victoria Walsh
This soup is an elegant holiday starter. It gets its silky smooth texture and luxurious flavour from the addition of a simple can of coconut milk. Soup can also be made ahead and frozen for up to 2 weeks.
2 tbsp (30 mL) butter
2 onions, chopped
2½ lbs (1.25 kg) butternut squash cubes, about 1 large squash, cut up with seeds removed
1 carton (900 mL) chicken broth
1 can (400 mL) coconut milk
Generous pinches of salt
1/3 cup (80 mL) toasted shredded unsweetened coconut (optional)
1 In a large pot, melt butter over medium heat. Add onion. Cook, stirring occasionally for 5 to 8 minutes or until softened. Add squash. Pour broth and coconut milk overtop. Cover and bring to a simmer over medium-high. Reduce heat. Gently simmer for 15 to 20 minutes or until squash is very tender. Remove from heat. Let cool slightly.

2 When squash is cooled slightly, immerse a hand blender and blend until very smooth. Or, working in batches, ladle into a food processor, whirl until smooth, then pour into another pot or large bowl. If very thick, thin with a bit more broth or water. Before serving, reheat, if needed. Taste and season with salt. Serve garnished with toasted coconut, if desired.
Makes 11 cups (2.75 L) for
12 scant 1-cup (250-mL) servings
SHARE