Coconut Chicken Curry
Hiver 2006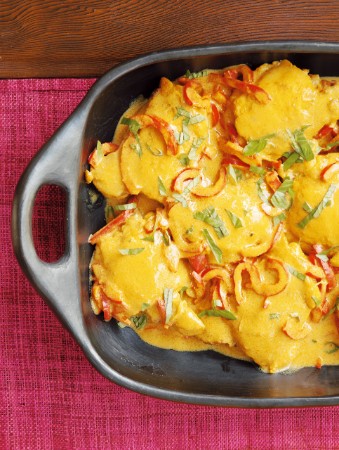 Coconut Chicken Curry
Hiver 2006
BY: Jennifer McLagan
The advantage of cooking only chicken thighs or legs is that, unlike a cut-up chicken, they are done at the same time. This recipe is in no way authentically Thai, but it is tasty and quick. You can add diced tomato, peas, diced potatoes or sliced green beans instead of or as well as the red pepper. I must admit that I sometimes make this recipe to use up stray vegetables, but don't overdo it. I like to scatter the finished dish with shredded Thai basil, but any basil, coriander or even parsley will do.
8 chicken thighs, skin removed
1 tsp (5 mL) turmeric
2 tbsp (25 mL) vegetable oil
1 tbsp (15 mL) Thai red or green curry paste
One 400 mL can coconut milk
2 tbsp (25 mL) fish sauce
2 tbsp (25 mL) freshly squeezed lime juice
2 tsp (10 mL) sugar
1 red bell pepper, cored, seeded and thinly sliced
Kosher salt
Handful basil leaves, preferably Thai, shredded for garnish
1 lime, cut into wedges
1. Pat the chicken thighs dry and remove any excess fat. Sprinkle with turmeric.

2. Heat the oil in a frying pan over medium-high heat and brown the chicken thighs on both sides. Transfer the chicken to a plate, and discard all but 1 tbsp (15 mL) fat from the pan. Add the curry paste and stir, mixing it with the oil until fragrant, about 30 seconds. Add the coconut milk and bring to a boil stirring and scraping the browned bits from the bottom of the pan. Stir in the fish sauce, lime juice and sugar and boil for 3 minutes, stirring occasionally.

3. Lower the heat and add the chicken, with any juices, cover, and simmer for 15 minutes. Uncover, turn the chicken pieces, and simmer uncovered for another 15 minutes. Tip the pan and skim off any excess oil.

4. Add the red pepper slices and cook uncovered for another 5 to 10 minutes, or until the chicken is cooked. Check the sauce-it probably won't need any salt, but that will depend on your curry paste.

5. Sprinkle the curry with basil leaves and serve with the lime wedge.
SHARE