Greek-Style Spot Prawn Cocktail
Early Summer 2021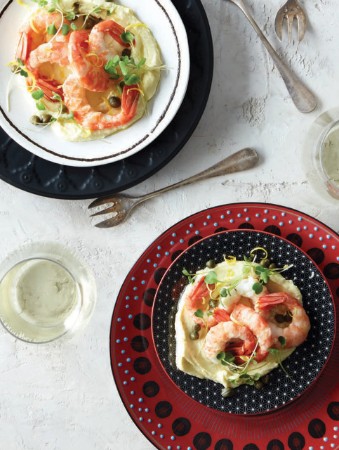 Greek-Style Spot Prawn Cocktail
Early Summer 2021
BY: Alison Kent
Wild-caught Pacific spot prawns step in for the usual shrimp in this very special twist on shrimp cocktail that's sure to make a big impact at the table. Tirokafteri is a Greek feta dip that's rich, creamy and fiery. Here, the heat is dialled back a bit by using relatively mild, tangy pickled pepperoncini peppers to balance the delicate, sweet-tasting prawns. Serve as an appetizer or mezze with toasted pita or sliced baguette.
8 oz (225 g) Greek feta, chopped or coarsely crumbled
2 cloves garlic, minced
2 tbsp (30 mL) drained, stemmed and chopped pickled pepperoncini (about 3)
4 tsp (20 mL) red wine vinegar
¼ tsp (1 mL) freshly ground black pepper
½ cup (125 mL) extra virgin olive oil
1 lb (455 g) shell-on spot prawn tails
2 cups (500 mL) lightly packed baby arugula or arugula microgreens
2 tbsp (30 mL) drained capers
1 lemon
1. In a food processor, blend feta, garlic, pepperoncini, vinegar and pepper. With the motor running, pour in olive oil, blending until smooth. Cover and refrigerate for at least 2 hours or up to 3 days.

2. In a large saucepan of boiling salted water, cook prawns until bright pink and tails curl, 2 to 3 minutes. Drain and transfer prawns to a bowl of ice water to stop the cooking. Let stand for 5 minutes. Drain well; peel prawns, keeping shell on tips of tails, if desired. If not serving immediately, cover and refrigerate prawns for up to 1 day.

3. To serve, divide feta dip among plates, using the back of a spoon to spread to a thin round. Top with prawns; sprinkle with arugula and capers. Freshly grate some lemon zest on top, then cut lemon into wedges to serve on the side for squeezing.
SHARE