Classic Paella
Temps des Fêtes 2008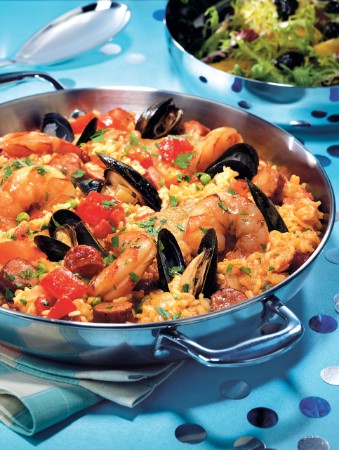 Classic Paella
Temps des Fêtes 2008
BY: Tonia Wilson-Vuksanovic
Paella can seem daunting to prepare, but this recipe makes light work of the traditional Spanish dish. Festive and colourful, it is sure to please everyone at the table, thanks to its medley of different flavours.
2 tbsp (25 mL) olive oil
8 chicken thighs, approx. 2.5 lb (1.25 kg)
2 chorizo sausages, sliced into ½-inch (1-cm) pieces
1½ cups (375 mL) Spanish onion, coarsely chopped
1½ cups (375 mL) red pepper, coarsely chopped
1½ tbsp (22 mL) garlic, finely chopped
½ tsp (2 mL) chili flakes
1½ tsp (7 mL) paprika
2 cups (500 mL) short-grain rice, such as arborio or calrose
1 cup (250 mL) canned, diced tomatoes, drained of juice
¾ cup (175 mL) white wine
2 pinches of saffron in ¼ cup (50 mL) warm water, let sit 10 minutes
1 bay leaf
1 tsp (5 mL) salt
3½ cups (875 mL) chicken stock
¾ cup (175 mL) frozen peas
8 jumbo shrimps, peeled
½ lb (250 g) fresh mussels
1 tbsp (15 mL) fresh parsley, finely chopped
Lemon wedges for garnish
1. Preheat oven to 400°F (200°C).

2. In a paella dish or large shallow pan heat oil over medium heat and brown chicken on both sides, about 15 minutes. Set aside on plate.

3. Pour off excess oil and continue to cook sausage, onion and pepper in pan until sausage is browned, about 10 minutes.

4. Add garlic, chili flakes and paprika, cook for 1 minute, add rice and stir well.

5. Add tomatoes, white wine, saffron and water and cook for 3 minutes, add bay leaf, salt, chicken stock and peas. Stir well and nestle chicken pieces evenly throughout the pan.

6. Bake in oven for 25 minutes, remove from oven and nestle shrimps and mussels within rice and bake for a further 12 minutes.

7. Sprinkle with parsley and serve with lemon wedges.
SHARE