Classic French Beef Ribs
Holiday 2010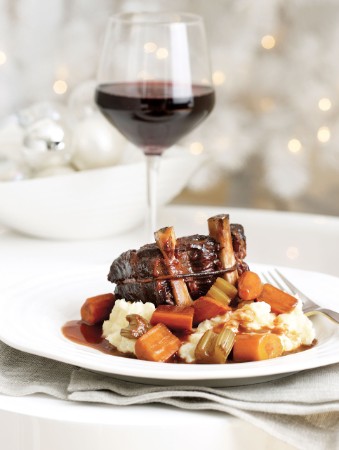 Classic French Beef Ribs
Holiday 2010
BY: Nicole Young
This simple dish is the ultimate winter make ahead meal that requires patience over precision. The long braising process transforms a tough, inexpensive cut of meat into melt-in-your-mouth morsels of goodness.
8 beef short ribs, about 6 lbs (2.7 kg), cut across the rack so there are 2 to 3 bones in each piece
1 tsp (5 mL) each coarse salt and fresh cracked pepper
2 tbsp (25 mL) vegetable oil
3 carrots, peeled and chopped
1 celery stalk, chopped
1 large onion, peeled and chopped
4 shallots, peeled and sliced
6 garlic cloves, peeled and minced
1/4 cup (50 mL) tomato paste
1/4 cup (50 mL) flour
1/2 cup (125 mL) port
3 cups (750 mL) full-bodied red wine
2 sprigs rosemary
6 sprigs thyme
2 bay leaves
6 cups (1.5 L) veal stock
1 Preheat oven to 325°F (160°C).

2 Bind each rib with twine. Season ribs with salt and pepper. In a large Dutch oven, heat the oil over high heat. Brown the short ribs in 2 batches, about 3 minutes per side. Set aside.

3 Reduce heat to medium-high.

4 Add carrots, celery, onion and shallots. Sauté until the onion is soft and golden, about 7 minutes. Add garlic and tomato paste and cook 1 minute. Stir in the flour until well combined. Add the port, scraping any brown bits from the bottom of the pan. Add the red wine, rosemary, thyme and bay leaves. Cook for 20 minutes (do not cover).

5 Return the ribs to the pot. (If your Dutch oven isn't large enough, transfer everything to a large roasting pan) Add the stock to cover the ribs. Bring to simmer, cover and transfer to oven. Cook for 3 hours, occasionally stirring the ribs and bringing the ones from the bottom up to the top. They are done when the meat is fork tender and falling from the bone. If the sauce is too thin, remove the meat and cook it on the stove until it is reduced to desired consistency. Return the ribs back to the sauce to warm through.

6 Serve over creamy mashed root vegetables or simply with a loaf of rustic bread.


SHARE