Classic Crab Cakes with Lemon Mayo
Summer 2010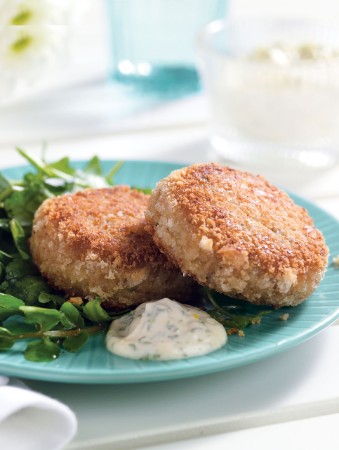 Classic Crab Cakes with Lemon Mayo
Summer 2010
BY: Julia Aitken
These crab cakes may be the crabbiest you've ever tasted—but in a good way! You'll need three or four slices of white sandwich bread with the crusts removed, for the bread crumbs; tear the slices into pieces and pulse in a food processor until fine crumbs form.
Lemon Mayo

½ cup (125 mL) mayonnaise
2 tbsp (25 mL) finely chopped parsley
2 tsp (10 mL) finely grated lemon zest
1 tbsp (15 mL) lemon juice
1½ tsp (7 mL) Dijon mustard
Pinch cayenne

Crab Cakes

2 pkgs (200 g each) frozen crabmeat, thawed
1½ cups (375 mL) soft bread crumbs
¼ cup (50 mL) mayonnaise
1 egg, beaten
2 tbsp (25 mL) finely chopped chives
1 clove garlic, minced
1 tsp (5 mL) finely grated lemon zest
1 tsp (5 mL) Worcestershire sauce
¼ tsp (1 mL) freshly ground black pepper
Pinch each cayenne and salt
2 tbsp (25 mL) vegetable oil

Garnish

2 cups (500 mL) baby arugula, washed and dried
2 cups (500 mL) watercress (no tough stems),
washed and dried
1 tbsp (15 mL) olive oil
1 tsp (5 mL) white wine vinegar
Salt and freshly ground black pepper to taste
1. Stir together mayonnaise, parsley, lemon zest and juice, mustard and cayenne in a small serving bowl until smooth. Refrigerate until ready to serve.

2. Flake crabmeat finely. Drain in a sieve, squeezing crabmeat firmly to remove as much liquid as possible.

3. In a medium bowl, stir together crabmeat,¼ cup (50 mL) breadcrumbs, mayonnaise, egg, chives, garlic, lemon zest, Worcestershire sauce, pepper, cayenne and salt until well combined. (Mixture will be moist.)

4. Form crabmeat mixture into 12 golf-ball-size pieces. Form each piece into a patty between the palms of your hands, coating patties on all sides with remaining breadcrumbs. Arrange patties in a single layer on a large plate. Refrigerate for at least 1 hour.

5. In a large nonstick skillet, heat 1 tbsp(15 mL) vegetable oil over medium heat. Fry crab cakes in 2 batches for 6 to 8 minutes, turning carefully once, until browned and heated through, adding more vegetable oil to skillet as necessary. As each batch of crab cakes cooks, transfer it to a warm platter and keep warm.

6. In a medium bowl, toss arugula and watercress with olive oil, vinegar, salt and pepper to taste. Divide greens among 6 plates. Top each portion of greens with 2 crab cakes. Add a dollop of the lemon mayo and pass the rest separately.
SHARE