Classic Bistro Steak Tartare with Onion Crisps
Holiday 2012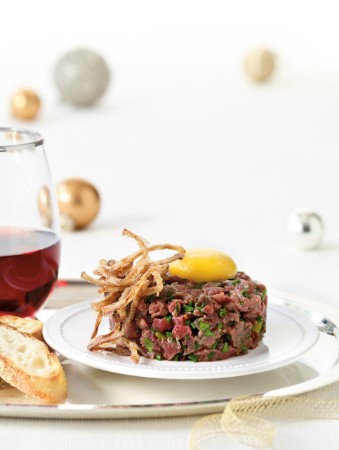 Classic Bistro Steak Tartare with Onion Crisps
Holiday 2012
BY: Christopher St. Onge
Traditionally served with frites on the side, this take on a bistro mainstay is topped with crisp, salty, fried onion strings and served in a smaller portion suitable as an appetizer or lighter main. The eggs, onion strings and dressing may be prepped ahead of time; however, chop the meat and add dressing just before serving, as it will turn an unattractive brown otherwise. Because tenderloin is mildly flavoured, springing for organic, naturally raised beef pays off on the plate.
4 medium eggs
Vegetable oil for frying
1 medium onion, halved and thinly sliced
1½ tsp (7 mL) cornstarch
Good quality sea salt, such as Maldon
3 tbsp (45 mL) extra virgin olive oil
1 tbsp (15 mL) ketchup
1 tbsp (15 mL) Dijon mustard
1 tbsp (15 mL) whole grain mustard, such as Kozlik's Triple Crunch
1 tbsp (15 mL) fresh lemon juice
1 tsp (5 mL) Worcestershire sauce
½ tsp (2 mL) Tabasco sauce
3 small cornichons, chopped
1 tbsp (15 mL) capers, drained and rinsed
¼ tsp (1 mL) freshly ground pepper
1 lb (500 g) chilled beef tenderloin, preferably organic
2 tbsp (30 mL) finely chopped parsley
2 tbsp (30 mL) finely chopped chives
¼ cup (60 mL) finely diced red onion
Thinly sliced toasted baguette to serve
1 Fill a medium saucepan with water to a depth of 2 inches (5 cm); place eggs in pan. Using a meat thermometer, warm water over medium-low to 140°F (60°C). Reduce heat to low, and maintain temperature between 140 to 145°F (60 to 63°C) for 30 minutes. Remove eggs. (Eggs may be prepared up to 3 days in advance and refrigerated until ready to serve).

2 Pour oil into a medium sauté pan to a depth of 1 inch (2.5 cm). Bring to 350°F (180°C) over medium heat. Sprinkle onions with cornstarch, toss to evenly coat, and fry for 4 to 5 minutes or until golden and crisp. Remove with a slotted spoon to a paper towel-lined baking sheet. Season with salt to taste. (Onion strings may be made up to 6 hours in advance and stored uncovered at room temperature).

3 In a medium bowl, whisk together olive oil, ketchup, Dijon, whole grain mustard, lemon juice, Worcestershire and Tabasco. Add cornichons, capers, ¼ tsp (1 mL) salt and pepper; stir to combine. Cover and refrigerate until chilled. (Dressing may be made up to 6 hours in advance).

4 Chill 4 salad plates.

5 Chop tenderloin into ¼-inch (5-mm) dice. Add to bowl containing dressing along with parsley, chives and red onion. Using 2 tablespoons, gently mix to combine.

6 Working with 1 plate at a time, place a 3¼‑inch (8.5-cm) round cookie cutter in the centre of plate. Fill hollow to a depth of 1¼‑inch (3 cm) with meat mixture; lightly pack with the back of a spoon and remove cutter. Repeat with remaining plates. Crack eggs, 1 at a time, and separate yolk from white (white will be very lightly set and should separate easily); discard white. Place 1 yolk on top of each tartare. Place a tangle of onion strings on each and serve right away.
SHARE