Classic Beef Bourguignon
Winter 2008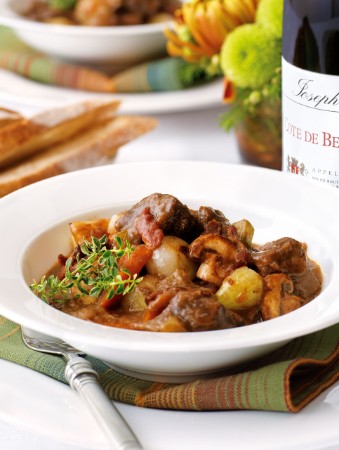 Classic Beef Bourguignon
Winter 2008
BY: Tonia Wilson-Vuksanovic
Nothing is more satisfying than a bowl of Burgundian beef stew, unless perhaps it is the glass of red Burgundy that accompanies it. Make sure to do the full marinating time, as this is what makes the beef exceptionally tender.
2 lb (1 kg) stewing beef (shoulder or hip), cubed
2 cups (500 mL) red wine, preferably Burgundy
¼ cup (50 mL) vegetable oil for sautéing
5 strips of bacon, cut into 1-inch (2.5-cm) pieces
2 cups (500 mL) onion, coarsely chopped
2 cups (500 mL) carrot, peeled and coarsely chopped
1 cup (250 mL) celery, finely chopped
2 tbsp (25 mL) fresh garlic, finely chopped1 tbsp (15 mL) fresh thyme, finely chopped
¼ tsp (1 mL) ground clove
1 cup (250 mL) all-purpose flour for dredging, placed in a large bowl
2 tbsp (25 mL) tomato paste
2 bay leaves
Cold water
1 lb (500 g) Yukon Gold potatoes, boiled in their skins until tender, cooled and cubed
1 tbsp (15 mL) butter
1 lb (500 g) brown button mushrooms, cleaned, trimmed and halved                                                                             10 oz (300 g) bag of pearl onions, boiled and peeled as per package directions
Salt and freshly ground pepper
1. Stir beef and red wine together in a baking dish and marinate in the refrigerator overnight or for at least 8 hours.

2. Preheat oven to 325°F (160°C).

3. Remove beef from refrigerator. In a large Dutch oven heat 1 tbsp (15 mL) oil over medium-high heat. Add bacon and sauté until browned, about 5 minutes. Remove bacon from pot and set aside in a medium bowl.

4. Add the onion, carrot and celery to the same pot, sauté over medium-high heat until lightly browned, about 5 minutes. Add garlic, thyme and clove and sauté for 1 minute, remove from pot and set aside with bacon.

5. Drain beef from marinade, reserving marinade. Dredge beef in flour to coat. Shake off excess flour.

6. Heat 1 tbsp (15 mL) oil over medium-high heat. Work in batches and brown beef until browned on all sides, adding more oil as needed. When cooking the last addition of beef stir in tomato paste for the last minute.

7. Add vegetables, bacon, beef, bay leaves and marinade into the pot, add enough water just to cover. Simmer over low for 5 minutes and scrape up brown bits from bottom of pot. Cover pot with lid and cook in oven for 3 hours. For the last half hour of cooking add potatoes.

8. Heat butter in a sauté pan over medium-high heat. Sauté mushrooms until golden. Add pearl onions and cook for 5 minutes longer. When the beef has finished cooking add mushrooms and onions to pot, stir, season to taste and serve warm.
SHARE