Citrus Chicken with Yogurt Dip
Temps des Fêtes 2002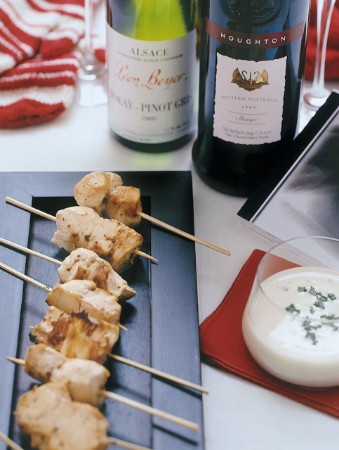 Citrus Chicken with Yogurt Dip
Temps des Fêtes 2002
BY: Cynthia David
Make lots of these low-fat chicken appetizers, for they're bound to go quickly. They can also be broiled, though watch carefully as they can burn quickly. Serve warm or at room temperature.
Marinade
1 cup (250 mL) orange juice
3 tbsp (45 mL) lemon juice
3 cloves garlic, minced
3 tbsp (45 mL) olive oil
2 tsp (10 mL) granulated sugar
1 tsp (5 mL) coarsely ground pepper
½ tsp (2 mL) salt
½ tsp (2 mL) dried oregano
½ tsp (2 mL) hot pepper flakes
8 boneless, skinless chicken breasts, (6 oz/175 g each)
cut in 1-inch (2.5-cm) cubes
2 cups (500 mL) plain yogurt
2 tbsp (25 mL) chopped fresh parsley
1. In a large bowl, combine orange juice, lemon juice, garlic, olive oil, sugar, pepper, salt oregano and hot pepper flakes. Divide marinade in half, reserving remainder to make sauce. Add chicken cubes to half the marinade and toss. Cover and refrigerate for 2 hours or overnight, stirring occasionally.

2. Meanwhile, soak fifty 5-to8-inch (12 - 20-cm) wooden skewers in water for at least 30 minutes to prevent burning.

3. Preheat oven to 450°F (230°C). Drain chicken well. Thread one or two chicken cubes on the end of each skewer. Arrange on a cookie sheet and roast for 5 to 10 minutes or until lightly golden.

4. In small saucepan over medium heat, cook reserved marinade 10 minutes or until reduced by half to about ½ cup (125 mL). Strain and let cool; stir into yogurt. Divide among several small bowls and serve as a dip. Garnish dip with parsley.
SHARE