Cilantro-Lime Fish Tacos
Début de l'été 2014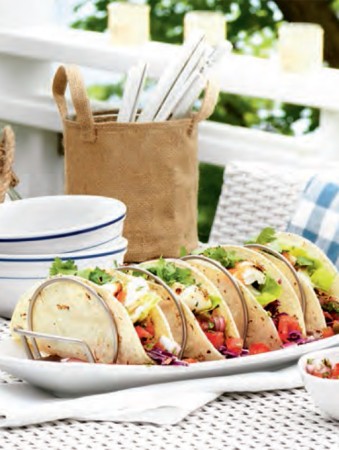 Cilantro-Lime Fish Tacos
Début de l'été 2014
BY: Victoria Walsh
A barbecue, fresh fish and lots of condiments are the key to whipping up these amazing tacos.
7 or 8 limes
3 lbs (1.5 kg) cod fillets or swordfish steaks
3 to 4 tsp (15 to 20 mL) olive or vegetable oil
1 tsp (5 mL) salt and freshly ground black pepper
24 small soft corn tortillas
¾ cup (175 mL) sour cream or1½ cups (375 mL) creamy coleslaw
12 Boston lettuce leaves, torn in half
1½ cups (375 mL) salsa, preferably fresh
Dashes of hot sauce, preferably Cholula
1½ cups (375 mL) lightly packed cilantro leaves, coarsely chopped
1 Preheat barbecue to medium-high.

2 Squeeze 1 tbsp (15 mL) juice from 1 or 2 limes. Thinly slice 4 limes, cut remaining 2 into wedges. Brush tops of fish with oil. Sprinkle with salt and pepper. Arrange lime slices overtop. Let stand for 10 minutes before grilling.

3 Oil grill. Barbecue fish, lid closed, without turning, until a knife inserted into the thickest part of fish and held for 10 seconds comes out warm. This will take 5 to 8 minutes for cod and 8 to 12 minutes for swordfish. Barbecue tortillas, lid open, until warm. This will take 30 seconds to 2 minutes. Turn over tortillas halfway through. Remove to a basket lined with kitchen towel or foil. Seal to keep warm.

4 Cut cod into pieces or thinly slice swordfish.Top each tortilla with sour cream or coleslaw, then lettuce. Top with salsa. Add pieces of fish. Squeeze juice from half of lime wedges over top of fish. Add dashes of hot sauce. Scatter with cilantro over top. Serve immediately.
Makes 24 tacos for 8 servings
SHARE