Mushroom-Gruyère Cigars
Autumn 2018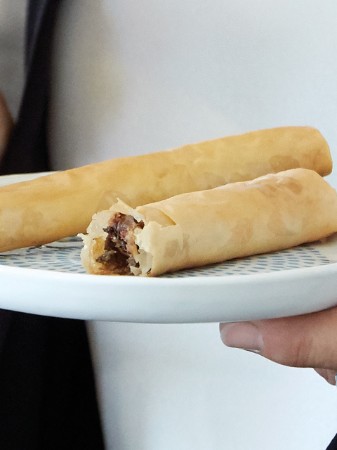 Mushroom-Gruyère Cigars
Autumn 2018
BY: Amy Rosen
These slightly retro 1970s-era phyllo cigars are a classic match with a tried-and-true Manhattan. They're also a great make-ahead party hors d'oeuvre. Simply warm them up to a crisp in a 200°F (100°C) oven when your guests arrive.
1 pkg (227 g) cremini mushrooms, chopped
2 medium shallots, chopped
2 tbsp (30 mL) unsalted butter, plus ¼ cup (60 mL) melted
Salt and pepper to taste
1 tbsp (15 mL) dry white vermouth
¼ cup (60 mL) sour cream
6 phyllo dough sheets (store-bought), thawed and kept in wax paper under a damp towel
½ cup (125 mL) Gruyère, grated
1. Preheat oven to 375°F (190°C).

2. Line 2 cookie sheets with parchment paper.

3. In a food processor, pulse the mushrooms with the shallots.

4. In a large frying pan, melt 2 tbsp (30 mL) butter over medium-high heat. Add prepared mushrooms and shallots, season with salt and pepper, and cook, stirring frequently, for several minutes. Add the vermouth, and keep cooking slowly, stirring often, until almost all the liquid has evaporated from the mixture; it will be a little bit stiff but still mushy (this will take 7 to 10 minutes). Let cool slightly, then stir in sour cream. Taste for seasoning.

5. One at a time, lightly brush each sheet of phyllo dough with melted butter and then carefully slice each sheet into 6 rectangles, approximately 4½ x 7 inches (11 x 18 cm). Spoon 1 tsp (5 mL) of mushroom mixture at one of the short ends of each rectangle, smearing it into a line. Sprinkle with a pinch of grated Gruyère. Fold the long edges over slightly and roll up into a little cigar.

6. Place prepared cigars, seam-side down, on cookie sheets. Lightly brush the tops of each cigar with more melted butter.

7. Repeat this process with the rest of the mushroom mixture and phyllo sheets, then place in the preheated oven and bake for 12 to 15 minutes, until golden brown. Serve warm.
SHARE