Chow Mein Noodles with Ground Pork & Peanuts
Holiday 2016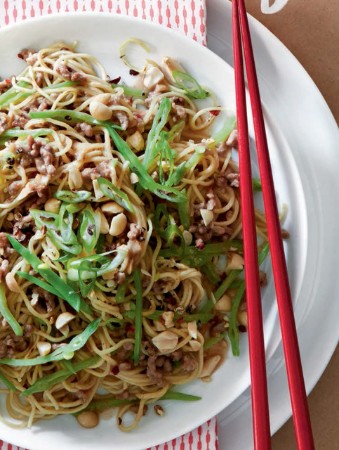 Chow Mein Noodles with Ground Pork & Peanuts
Holiday 2016
BY: Eshun Mott
Getting great flavour in chow mein is all about the hint of smoke you get from stir-frying in a really hot wok (and if you don't have a wok you should really consider getting one—it's a great inexpensive  addition to your kitchen arsenal), though you can substitute a large cast iron skillet and get a similar effect. Sichuan peppercorns have a unique anise-y flavor that really complements this dish and are available at Asian stores (sometimes labelled "red pepper").
1 lb (500 g) fresh chow mein noodles
⅓ cup (80 mL) canola oil
2 tbsp (30 mL) chopped ginger
1 tbsp (15 mL) chopped garlic
¼ tsp (1 mL) chili flakes
1 lb (500 g) ground pork
1 cup (250 mL) sodium-free chicken stock
3 tbsp (45 mL) light soy sauce
2 tbsp (30 mL) natural smooth peanut butter
1 tsp (5 mL) brown sugar
7 oz (210 g) snow peas, trimmed and cut thinly on the bias
2 tsp (10 mL) cornstarch mixed with 1 tbsp (15 mL) water
¼ cup (60 mL) sliced green onions
2 tbsp (30 mL) coarsely chopped roasted, salted peanuts
½ tsp (2 mL) crushed Sichuan peppercorns
1 Place chow mein noodles in a large heatproof bowl. Add enough boiling water to cover and let stand for 2 minutes to soften noodles. Drain and reserve noodles.

2 Heat a well-seasoned wok on high heat until very hot. Add ¼ cup (60 mL) oil, and swirl carefully to coat. Add noodles and fry for 5 minutes or until lightly browned in places. Remove to a serving platter and keep warm.

3 Add remaining 2 tbsp (30 mL) oil, ginger, garlic and chili flakes and fry for 30 seconds or until fragrant. Add pork, stirring to break up lumps, and fry for 6 minutes or until juices have evaporated and pork is lightly browned. Add chicken stock, soy sauce, peanut butter and brown sugar and stir to combine. Boil for 1 minute or until flavours have come together. Add snow peas and cornstarch mixture, and boil for 1 minute or until pea pods are bright green and sauce is thickened.

4 Pour sauce over chow mein noodles (alternatively, add noodles to pan and toss to combine) and sprinkle with onions, peanuts and Sichaun pepper.
SHARE