Chow Mein Hong Kong-Style
Winter 2014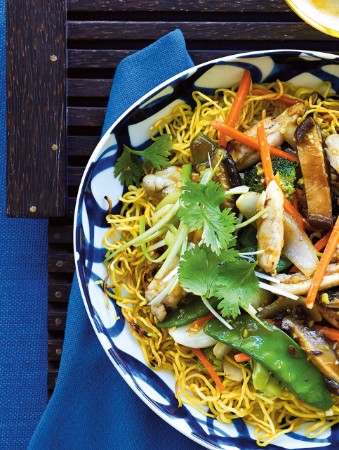 Chow Mein Hong Kong-Style
Winter 2014
BY: Janice Poon
In Chinese lore, noodles symbolize longevity and chicken signifies health, making this version of Cantonese Chow Mein a perfect dish for Chinese New Year. Fresh egg noodles (called "steamed" or "chow mein"), dried black mushrooms, oyster sauce and XO sauce can be found in Asian supermarkets. You can substitute pork or shrimp for the chicken, or simply add sliced Chinese barbecued pork for variety.
SEASONING SAUCE
1 tbsp (15 mL) cornstarch
2 tbsp (30 mL) water
1 tsp (5 mL) grated ginger
½ tsp (2 mL) minced garlic
2 tbsp (30 mL) oyster sauce
1 tbsp (15 mL) XO sauce (optional)
1 tsp (5 mL) soy sauce
1 cup (250 mL) unsalted chicken stock

NOODLES
½ lb (250 g) fresh chow mein egg noodles
4 tbsp (60 mL) vegetable oil
1 small onion, in ⅛ inch (3 mm) slices
½ cup (125 mL) broccoli florets
¼ cup (60 mL) carrots, cut in julienne
½ cup (125 mL) snow peas, tips and strings removed
4 dried black Chinese mushrooms, rehydrated and thinly sliced
½ lb (250 g) chicken thigh meat, cut in ½ inch (1 cm) slices
Salt and pepper to taste

GARNISH
1 green onion, cut in julienne
5 to 10 coriander sprigs, chopped
1 To make sauce, in a small bowl, combine cornstarch and water to make a slurry. Stir in ginger, garlic, oyster sauce, XO sauce and add soy sauce and chicken stock. Set aside.

2 To prepare noodle layer, blanch noodles in boiling water for 1 minute. Drain thoroughly.Heat 2 tbsp (30 mL) oil in a large wok or large skillet over high heat until very hot. Add noodles and spread out carefully as any excess moisture will cause the oil to spatter. Fry on one side until tips of noodles get crispy and brown. Carefully turn noodles over to brown the other side (about 5 minutes per side).Remove to serving platter. Keep warm.

3 Heat 1 tbsp (15 mL) oil in wok or skillet over high heat. When very hot, add onions and stir constantly with cooking spatula for 30 seconds.Add broccoli florets and carrots and continue stir-frying for another minute. Add snow peas and continue stir-frying for another minute.Transfer to a bowl and set aside.

4 Wipe wok dry with a paper towel and heat remaining1 tbsp (15 mL) oil over high heat. When very hot, add Chinese mushrooms and chicken and stir-fry until chicken pieces are cooked on the outside but still pink inside (about 2 minutes).Transfer to bowl of vegetables.

5 Return wok or skillet to heat and add the seasoning sauce. Bring to boil, stirring constantly.Cook until sauce thickens (about 1 minute).Add reserved bowl of cooked vegetables and chicken, and toss, thoroughly coating vegetables and chicken with sauce until chicken is cooked (1 to 2 minutes). Adjust seasoning with salt and pepper to taste. Pour mixture over noodles on serving platter. Garnish with green onions and coriander and serve.
Serves 4 as a side dish or 2 as a main
SHARE