Brussels Sprouts with Sweet Red Onions
Automne 2012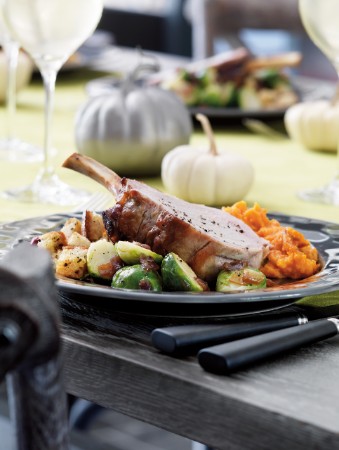 Brussels Sprouts with Sweet Red Onions
Automne 2012
BY: Jennifer MacKenzie
Autumn is the time to enjoy hardy vegetables in abundance. By cooking the Brussels sprouts ahead just until they are tender-crisp, then finishing them off with the onions before serving, you avoid the risk of overcooked and peaked-flavoured sprouts (which everyone loves to hate). You can caramelize the onions ahead too, just reheat them well in the skillet, adding a little more butter if they've dried out, before adding the sprouts.
2 lbs (1 kg) Brussels sprouts, trimmed
¼ cup (60 mL) butter
1 large red onion, chopped
1 tbsp (15 mL) honey
Salt and freshly ground pepper
¼ cup (60 mL) cider vinegar or wine vinegar
1 Bring a large pot of salted water to boil. Cook Brussels sprouts for 5 to 8 minutes or until almost tender. Refresh under cold water and drain well. Let cool slightly. Cut sprouts in half and place cut-side down on a paper towel-lined tray to drain. Cover and refrigerate for up to 1 day. Bring to room temperature before next step.

2 Melt butter over medium heat in a large skillet. Add onion and sauté for 2 minutes or until starting to soften. Reduce heat to medium-low, stir in honey, ½ tsp (2 mL) each of salt and pepper to taste, and cook, stirring often, for about 30 minutes or until onions are very soft and caramelized. Stir in vinegar. Increase heat to medium. Add Brussels sprouts and toss to coat well and heat through. Season to taste with salt and pepper. Transfer to a warmed serving dish.
SHARE