Chorizo-Stuffed Artichoke Hearts
Holiday 2013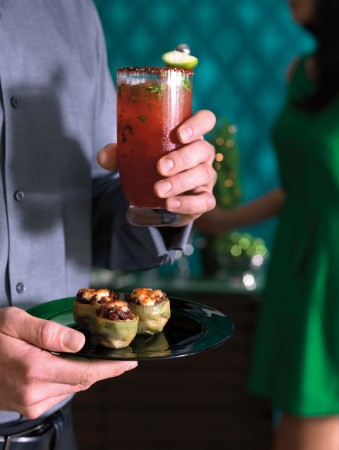 Chorizo-Stuffed Artichoke Hearts
Holiday 2013
BY: Christopher St. Onge
Perhaps because it requires a bit more work than breaking off a stem, artichokes have never achieved the stuffing-base stardom afforded the mushroom. It's a shame because, once hollowed, there's a lot of room to fill with delectable goodies like this spicy chorizo-and-onion stuffing.
Juice of 1 lemon
24 medium artichokes, about 4 inches (10 cm) from base to tip
1 tbsp (15 mL) olive oil
1 small onion, finely diced
8 oz (250 g) spicy, dry Spanish-style chorizo, finely chopped
1 tsp (5 mL) dried marjoram
½ cup (125 mL) hard cider
½ cup (125 mL) grated Manchego
1/3' cup (80 mL) olive oil mayonnaise
Smoked paprika and chopped parsley to garnish
1 Acidulate a large bowl of cool water by adding the lemon juice. Working with 1 artichoke at a time, trim stem flush with base. Remove dark green outer leaves until only pale tender leaves remain. Slice top from artichoke leaving a ½-inch (1-cm) length of leaves all around; add to bowl of acidulated water. Repeat with remaining artichokes. Boil in plenty of salted water for 10 to 12 minutes or until tender-crisp. Remove to a paper-towel-lined cookie sheet and invert, leaf-side down, to drain.

2 Meanwhile, heat oil over medium heat; cook onions for 3 minutes. Add chorizo and cook 8 to 10 minutes longer or until crisped. Stir in marjoram and pour cider over. Cook an additional 5 minutes or until cider is evaporated.

3 Once cool enough to handle, remove artichoke hearts with a small spoon or paring knife, leaving a few layers of outer leaves intact. Fill each with a generous spoonful of the chorizo mixture. Arrange on a parchment-lined cookie sheet.

4 Preheat oven to 375°F (190°C).

5 Combine Manchego and mayonnaise in a small bowl. Top each artichoke with an equal amount of cheese mixture and bake for 10 to 12 minutes or until cheese is golden and artichokes are hot. Garnish each with a pinch of smoked paprika and parsley.
SHARE