Chorizo Tostadas with Tomatillo Guacamole
Early Summer 2013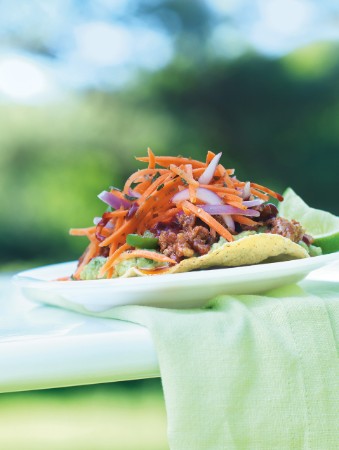 Chorizo Tostadas with Tomatillo Guacamole
Early Summer 2013
BY: Christopher St. Onge
Perfect backyard fare for a steamy summer day, both the carrot garnish and guacamole can be made up to four hours ahead of time and refrigerated until ready to fry up the chorizo. Similar in appearance to an Italian sausage, fresh chorizo shouldn't be confused with ready-to-eat dry-cured chorizo. Look for fresh, Mexican-style chorizo, deep red from the addition of chillies. A tamer version, commonly available at large grocers, works here too.
CARROT GARNISH
2 cups (500 mL) julienned or coarsely grated carrot
1 jalapeño, cut in half lengthwise, seeds removed, thinly sliced
½ red onion, thinly sliced
1 tbsp (15 mL) dried oregano
1 tbsp (15 mL) chopped fresh oregano
¼ cup (60 mL) fresh lime juice
1 tbsp (15 mL) corn, or vegetable oil
½ tsp (2 mL) toasted cumin seeds
¼ tsp (1 mL) salt
Freshly ground pepper

TOMATILLO GUACAMOLE
1 large ripe tomatillo, husk removed, roughly chopped
½ small sweet onion, roughly chopped
6 cloves garlic
3 small ripe avocados
2 tbsp (30 mL) fresh lime juice
½ cup (125 mL) chopped cilantro
Salt and freshly ground pepper
1 tbsp (15 mL) vegetable or olive oil
4 fresh chorizo, about 2 lbs (1 kg), removed from casings
8 tostadas
Hot sauce
Lime wedges
1 For the garnish, combine carrot, jalapeño, onion, dried and fresh oregano in a medium bowl. Pour lime juice and oil over. Add cumin and salt; toss to combine. Season to taste with freshly ground pepper, cover and refrigerate until ready to serve.

2 To prepare the guacamole, add tomatillo, onion and garlic to a food processor or blender and pulse until mixture is the consistency of chunky salsa. Set aside.

3 Halve avocados; remove pit and peel. Add avocado flesh and lime juice to a medium bowl. Using a potato masher, pulverize avocado. Add cilantro and tomatillo mixture to bowl and stir to combine. Season to taste with salt and freshly ground pepper. Cover and refrigerate until ready to serve.

4 Heat oil in a large skillet over medium-high heat. Cook chorizo, stirring to break apart larger pieces, for 8 to 10 minutes or until cooked through and lightly crisped.

5 Spread a generous spoonful of the guacamole over each tostada and top each with an equal portion of chorizo. Garnish with carrot mixture, a dash of your favourite hot sauce and wedge of lime to squeeze over.
SHARE