Chocolate Saffron Tart with Apples
Holiday 2015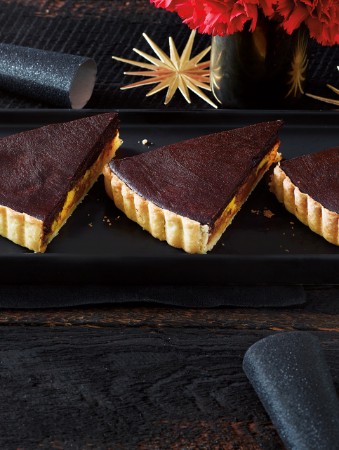 Chocolate Saffron Tart with Apples
Holiday 2015
BY: Lucy Waverman
I had this in Spain at a special-event dinner in Madrid and it was wonderful. This recipe is my take on it. The combination of sliced apples baked with saffron custard then covered with a chocolate mousse is both unusual and divine. There are several steps to this but all the elements can be made a day or two in advance and the tart can be baked and kept refrigerated for up to 24 hours before you need it. The darker the chocolate the better. I used 70%. You can buy a pastry shell if you prefer.
SAFFRON CREAM
1 cup (250 mL) whipping cream
1 cup (250 mL) milk
1 tsp (5 mL) saffron threads
5 egg yolks
3 tbsp (45 mL) honey
2 tbsp (30 mL) sugar
1 tsp (5 mL) vanilla extract

APPLES
2 tbsp (30 mL) granulated sugar
1 tbsp (15 mL) honey
2 star anise
2 Pink Lady or other firm apples, peeled, cored and thickly sliced
Sweet Pastry (recipe page 228), partially baked

CHOCOLATE MOUSSE
8 oz (250 g) bittersweet chocolate, chopped
1 cup (250 mL) whipping cream
½ tsp (2 mL) kosher salt
1 egg, beaten
½ tsp (2 mL) vanilla extract
1 Heat cream and milk in a pot over medium heat until the edges begin to bubble and steam rises off the milk. Remove from heat. Pour ¼ cup (60 mL) hot cream mixture into a bowl. Stir saffron into the bowl and set aside.

2 Whisk egg yolks with honey and sugar in a large bowl. While whisking, slowly drizzle remaining cream mixture from pot into eggs until all the mixture has been added. Return to pot and place over medium heat. Add saffron-infused mixture.

3 Stir continuously until mixture is thick enough to coat the back of a spoon, about 5 minutes. Stir in vanilla. Remove from heat and pour into a bowl. Place plastic wrap on top of custard and refrigerate until cool, about 30 minutes.

4 Combine sugar, honey and star anise in a medium skillet over medium heat. Stir until sugar has dissolved. Add apples and cover. Reduce heat to low and simmer for 13 to 15 minutes or until liquid has been absorbed and apples are very tender. Reserve.

5 Preheat oven to 350°F (180°C).

6 Line the bottom of the partially baked crust with the honey apples, discarding star anise. Spread cooled saffron cream over apples and bake for 25 to 30 minutes or until cream has set.

7 Combine chocolate, cream and salt in a pot over low heat. Melt chocolate, stirring until the mixture is smooth. Remove from heat. Add egg and vanilla, stirring together until mixture is slightly thickened.

8 Remove tart from oven and allow to cool for 10 minutes. Pour enough chocolate mousse over the saffron cream to cover. You may have some left over. Return tart to oven and bake for 10 more minutes or until edges begin to puff up but the chocolate is still glossy. Do not overbake or the chocolate will lose its shine. Cool before serving.


SWEET PASTRY


An excellent sweet pastry for all your tarts. The pastry is rich, so not as good for double-crust fruit pies. Fully baked sweet pastry crusts are for fresh fruit pies and other kinds that do not need rebaking. Partially baked are for fillings that need to be baked for an additional amount of time. Partial baking prevents the pastry from getting soggy.


1½ cups (375 mL) all-purpose flour

3 tbsp (45 mL) sugar

½ tsp (2 mL) salt

½ cup (125 mL) cold unsalted butter, cubed

1 egg yolk

1 tbsp (15 mL) lemon juice

1 tbsp (15 mL) water
1 Preheat oven to 425°F (220°C). Combine flour, sugar and salt in a food processor. Add butter and pulse until it resembles coarse meal. Add yolk, lemon juice and water and pulse until combined but still loose. Transfer to a bowl and combine together into a ball.


2 Roll out onto a lightly floured board into a 12-inch (30-cm) circle. Roll dough back onto rolling pin so it is loosely wrapped around. Lift and unroll into 10-inch (25-cm) tart pan with removable bottom. Press dough into edges, using scraps to patch any holes. Prick base all over with a fork. Freeze for 30 minutes.


3 Line the interior of the Sweet Pastry with parchment paper and fill with baking beans to weigh down the crust. Bake for 15 minutes. Remove from oven and remove beans and parchment. For a fully baked crust, return crust to oven and bake a further 5 to 10 minutes or until a pale gold. For a partially baked crust, continue with the recipe, placing filling in crust.
Makes one 10-inch (25-cm) tart
SHARE