Chocolate Peanut Butter Tart
Winter 2009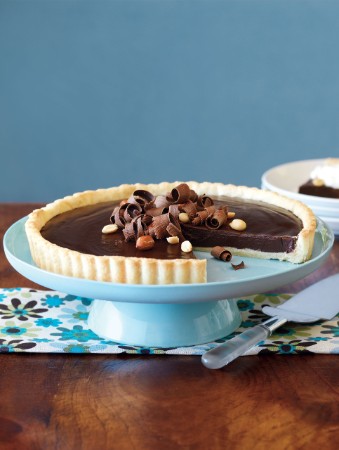 Chocolate Peanut Butter Tart
Winter 2009
BY: Heather Trim
Pat-in pastry and stir-together filling make this elegant tart easy―and chocolate and peanut butter make it really addictive!
1¼ cups (300 mL) all-purpose flour
3 tbsp (45 mL) granulated sugar
¼ tsp (1 mL) salt
½ cup (125 mL) cold unsalted butter, cut into cubes
1 egg yolk
2 tsp (10 mL) white vinegar

Filling
8 oz (250 g) bittersweet chocolate, finely chopped
½ cup (125 mL) whipping cream
¼ cup (50 mL) creamy peanut butter
1 tbsp (15 mL) liquid honey
1 tsp (5 mL) vanilla
Chocolate curls and/or chopped peanuts for garnish (optional)
Whipped cream (optional)
1. Place flour, sugar and salt in a food processor. Whirl until blended. Add butter and pulse until coarse crumbs form. Whisk yolk with vinegar. Add to processor and pulse just until dough comes together. Gather into a ball, then flatten into a disc. Using the palm of your hands press into and up the sides of a 9- to 9½-inch (23- to 24-cm) fluted tart pan with removable bottom. Prick bottom all over with a fork. Place in freezer for 30 minutes.

2. Preheat oven to 375°F (190°C).

3. Lay a piece of parchment paper that is slightly larger than tart pan onto the pastry. Fill with dried beans or rice, making sure to push up against sides. Bake on lower shelf of oven 18 to 20 minutes, until edges are golden brown. Discard parchment and beans. Continue to bake until crust is golden brown, about 5 minutes. Cool completely before filling.

4. Place chocolate in a medium bowl. Bring whipping cream just to the boil. Pour over chocolate. Let stand 5 minutes. Stir chocolate until melted. Stir in peanut butter, honey and vanilla. Pour into tart shell and smooth as best you can. Refrigerate until firm, about 1 hour. Garnish with chocolate and/or peanuts. Serve in small wedges with whipped cream.
SHARE