Chocolate Mint Icebox Cakelets
Holiday 2019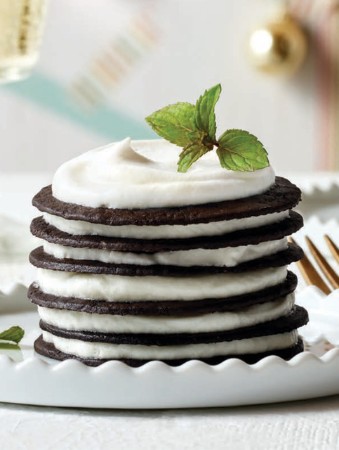 Chocolate Mint Icebox Cakelets
Holiday 2019
BY: Eshun Mott
Icebox cakes are one of the best simple desserts you can make. This one mimics the flavour of After Eight chocolates by folding lightly minted whipped cream between layers of dark chocolate wafer cookies. If you can't find mint essential oil (which has the best peppermint flavour), you can use peppermint extract and add it to taste.
1 cup (250 mL) 35% whipping cream
2 tbsp (30 mL) sugar
3 to 4 drops peppermint essential oil
2 pkgs (each 200 g) thin round dark chocolate wafer cookies
Mint leaves to garnish
1 Combine whipping cream, sugar and mint oil or extract in a large bowl and beat until the cream forms soft peaks.
2 Set 8 cookies on a serving tray or baking sheet. Using a pipingbag with a large star tip or a small off set spatula, spread each cookie with about 2 tsp (10 mL) whipping cream. Top with another cookie. Repeat layers until you have made stacks 6 cookies high with a decorative layer of whipped cream on top.
3 Place icebox cakelets on a serving plate and chill in the refrigerator overnight to soften cookies. Garnish with mint just before serving.
SHARE